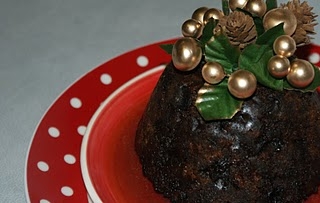 Okay, so here goes… I've never made a Christmas pudding before, quite frankly my Grandma makes the best puds in the stratosphere and the thought of a pressure cooker (and having to chisel pudding from my kitchen ceiling) fills me with dread!
But, I'm a brave baker, no pressure cooker here and six puds later (practise, practise, practise) here's your guide to Grandma's Christmas Pudding.
Traditionally Christmas Puddings and Cakes are made on Stir Up Sunday – the last Sunday before Advent.  That's this Sunday 21st November.  Instead of being at home, stirring-up with the best of you I'm taking part in a panel of foodies manning the Sainsburys Baking Hotline!  For one day only you can call

with all your baking queries between 11am and 4pm  – you might even get through to me!  Other panel members include Dan Lepard, Kate and Liz from the Sainsburys Try Team, Lucy Chahil, Netmums Food Editor and Sarah Randall, Food Director at Sainsburys Magazine.
You can see more about the hotline and the panel members here.
Ingredients:
130g currants
140g sultanas
130g raisins
50g ground almonds
2 tsp mixed cake spice
50g plain flour
pinch of salt
110g breadcrumbs (approx 3 slices blitzed in a food processor)
110g soft light brown sugar
110g suet
Zest of one lemon
2 tbsps treacle
2 eggs, large
2 tbsps brandy, rum or other liquor of your choice
Will make one large pudding in a basin with 1 litre capacity or you can split the mixture into smaller pudding basins as you wish.
Into a large bowl place the raisins, sultanas, currants, ground almonds, plain flour, cake spice and pinch of salt, mix well.
Add your breadcrumbs (easiest way to get these is to blitz approx 3 slices in a food processor), suet, brown sugar and lemon zest – give it another good stir up!
Make a small well in the centre, add your two eggs, the treacle and the brandy or rum if using.  Grandma uses rum.  If you would prefer it without the booze simply replace with the same quantity of milk.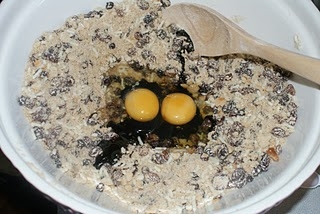 Stir up until all the ingredients are fully combined, you should have a soft clinging mixture.  If your mixture appears to be too dry you can add a dash of milk to loosen.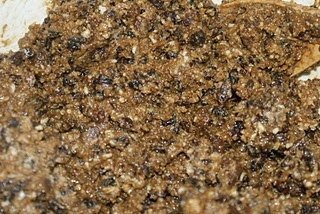 Grease your pudding basin with butter.  Cut a small disc of baking paper to fit the bottom of the basin and pop it in.  Add the mixture to the pudding dish and press down the top with the back of a spoon to level.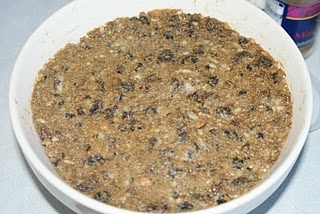 Cut a square of baking paper larger than the top of the basin, fold a pleat in it (as in the picture) and lay it over the top of the pudding.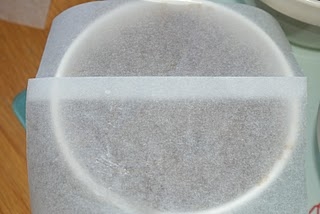 Add an additional two squares of foil on top the paper and tie securely with kitchen string.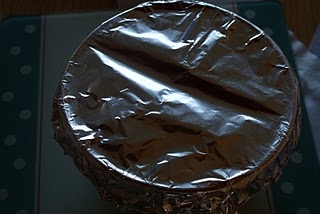 You can also add a handle so it is easier to lift out when cooked.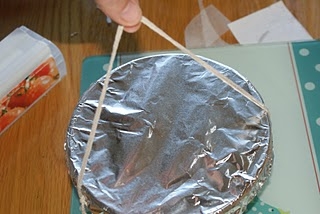 Now for the steaming part – one large, 1litre pudding needs to steam for 8 hours, two medium 500ml puds for 6 hours each and tidgy puds, 400ml will need 4 hours.  To do this you have three choices (that's completely discounting the pressure cooker option – I'm not even going to go there!)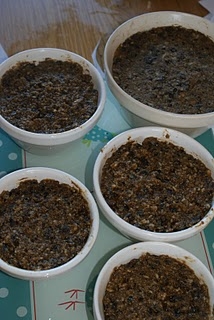 1. Place the pud in a large saucepan, fill 2/3rds up the outside of the pudding basin with hot water and heat until the water boils.  Place the lid on the saucepan and allow to steam for the length of time indicated above.  You will need to keep topping up the water every now and then.  This option also turns your house into a handy sauna, guaranteed to please everyone when they come home from school and work and condensation is practically running down the walls.  (Well I did make six!)


2. You can steam them in a slow cooker if you have one.  Place the pud in the bowl of the slow cooker and fill around the pud with hot water, place the lid on, turn the slow cooker on to high and leave to cook.  You will need to add an additional two hours onto the baking time for each pud if using this method, however the water needs a lot less topping up, just once in fact and didn't fill the house with steam.  Thanks to Lou, from Bake Off for this fabulous tip off!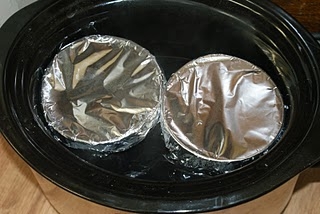 3. Last option is to stand the puds in a large roasting tin, fill the in with water and place in the oven at 170C/Gas Mark 4 to steam, again it will need to be topped up with water now and then.
When the puddings are cooked remove from the water and allow to cool completely.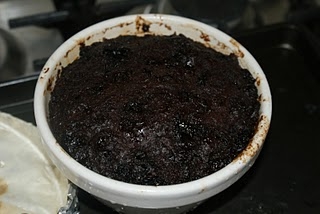 To remove them from the basins run a knife carefully around the pudding to loosen and tip out.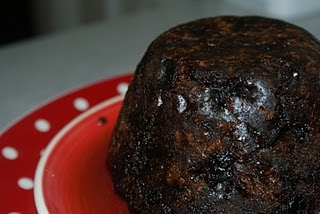 Wrap again in clean baking paper followed by a layer of foil.  Now allow to mature until Christmas in a cool dry place, a pantry or cupboard is ideal.
Now then when it's Christmas you want a bit of flambe action going on with this here pud.  To flambe successfully you need to reheat the pud by steaming for a further hour.  Heat some brandy in a small saucepan gently and then set it alight in the pan.  Take a ladle full of brandy (a metal ladle obviously) and pour over the pud and serve.  I tried to get a photo of my flambe which was brilliantly impressive but I couldn't capture it so you'll have to take my word for it!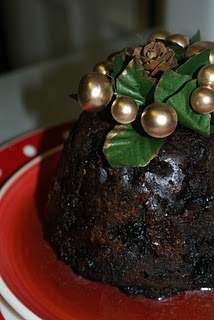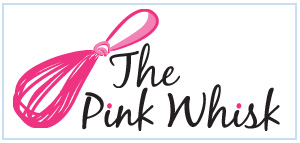 Ruth Clemens, Baker Extraordinaire
Finalist on BBC2 The Great British Bake Off