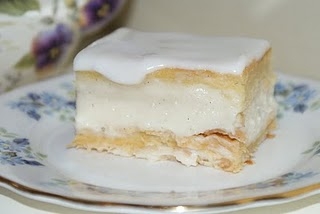 Who's Betty I can hear you ask!  She's my lovely Nanna who taught me to make these when I was about 12.  It's what every twelve year old should be learning.  Shop bought vanilla slices come nowhere near comparing.
These use homemade rough puff pastry and up until earlier this year I always used shop bought ready made stuff thinking that making my own would be some kind of ordeal.  I'll let you in on a secret – rough puff pastry is a cinch to make and super rewarding too.  If you aren't convinced or are short of time get yours from the shop – it does the trick just as well.
Ingredients:-
Rough Puff Pastry
250g Strong White Flour
Pinch of Salt
250g Butter
Juice of 1/2 lemon
5-6 tbsp cold water
Vanilla Custard
800ml Whole Milk
3 Eggs
3 tbsp Cornflour
1tbsp Vanilla Bean Paste
60g Caster Sugar
Glaze
400g Icing Sugar
60ml Water
To make the rough puff pastry add the flour and salt to the bowl of a food processor and give it a quick pulse to mix.
Cut the cold butter into 1/2cm slices and add to the food processor bowl.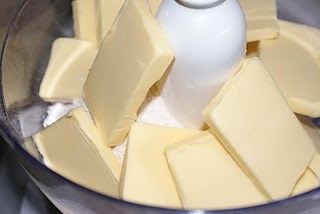 Using the pulse function whizz until the butter is broken up but still in visible lumps.  Tip the mixture out into a large mixing bowl.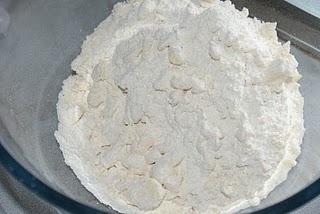 Make a well in the centre and add the juice of half a lemon and then enough super cold water to make a dough.  Use the blade of a table knife to mix the dough rather than your hands as you don't want to melt the butter.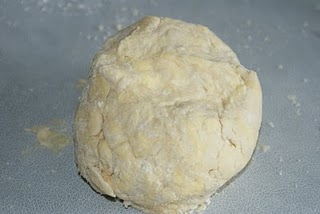 Once the dough is into a ball wrap in clingfilm and pop it into the fridge for an hour so that the butter hardens up again.
After an hour take the dough out of the fridge, lightly flour your work surface and then roll out the dough into a rectangle shape.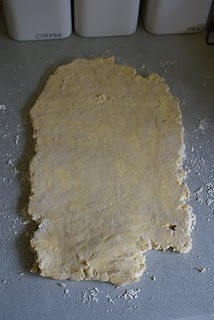 Fold into three like an envelope (see pictures below).
Turn the dough 90 degrees to the right so that the folds are now left and right. Roll again to a large rectangle and fold into three again.  Turn and then repeat this step twice more, turning before each re-rolling and folding.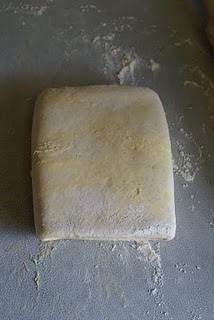 Each time the pastry gets smoother and more refined.  Wrap again in clingfilm and allow it to chill for another hour in the fridge.
See? – It wasn't difficult was it?
After the pastry is nicely cold again roll out on a lightly floured surface into a large rectangle about 5mm thick.  Using a pizza cutter cut into approx 6cm wide slices.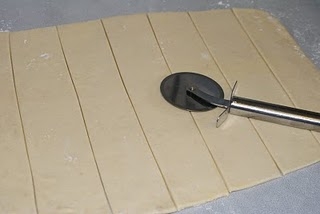 Place well spaced onto a greased or lined baking tray and bake in the oven at 200C/180C Fan/400F/Gas Mark 6 for 10-12 minutes until golden and fully cooked.
Place on a rack to cool.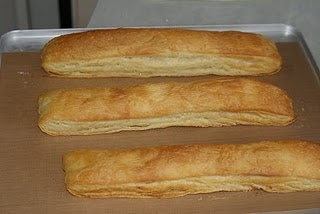 Now its time to make the custard.  Add all the ingredients to a pan with the exception of the sugar and give them a good stir with your whisk.  I like to use vanilla bean paste because I think it gives the best flavour with the gazillion seeds it has in, but vanilla extract is okay too.
Keep stirring over a medium heat and as the custard comes up to boiling point it will start to thicken.  Allow to bubble for a few minutes until it gets really thick, keeping stirring to avoid lumps.  Add in the sugar and give it another good stir.
If you do end up with lumpy custard you can
1. Whisk it like mad to get rid of the lumps
2. Whizz it up in the food processor which will sort it out
3. Pass it through a seive (if you have the patience of a Saint)
4. Hope no-one notices!
Pour the super-thick custard into a bowl and allow to cool.
Prepare your puff pastry slices by pressing down the tops with a fork so you have a nice base for the custard to sit on.  Tip off and discard the worst of the crumbs.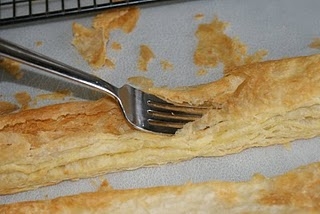 Pair up your pastry slices into two's, a top and a bottom.
Place spoonfuls of cooled custard along the pastry bottoms.  Repeat with a second layer, slightly smaller than the first.  The trick is to keep the custard from oozing out.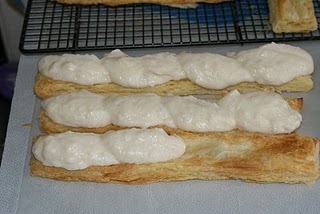 Place the pastry tops onto the custard, being very gentle. If necessary use a knife to encourage any custard spillage back into the slice.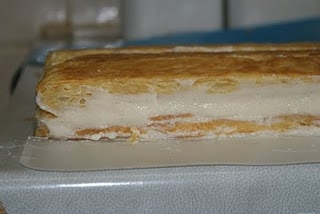 Mix up a thick icing using the icing sugar and water and ice the tops.
Bob them into the fridge for ten minutes just to encourage your custard to set in the right position!
My twelve year old instructions say to 'use a saw knife to cut', of course this would be a serrated knife.  Cut gently and carefully again avoiding a custard ooze situation!
Slice into whatever size you prefer but get ready to eat the lot – these are delicious and best eaten the same day!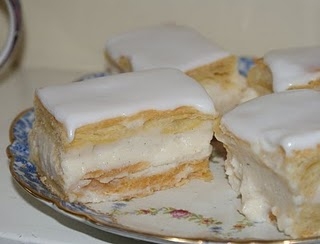 Betty's Vanilla Custard Slices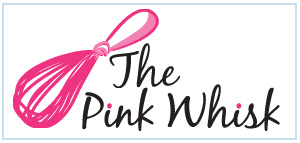 Ruth Clemens, Baker Extraordinaire