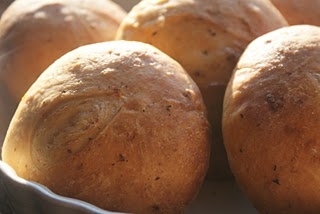 Sunkissed Tomato & Parmesan Rolls – a little taste of sunshine!
Makes 6 Rolls
Ingredients:
450g strong plain white flour1 tsp salt1 tsp caster sugar1 tsp dried yeast280ml water, tepid1tbsp oil from the jar of tomatoes100g sunkissed tomatoes40g grated parmesan
Method
In a large bowl combine the flour, salt, sugar.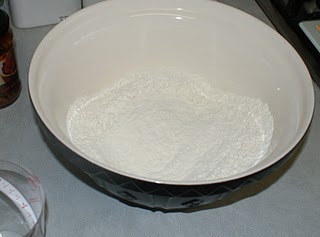 Measure out the water (it needs to be tepid to help the yeast activate) add a tablespoon of oil from the jar of tomatoes.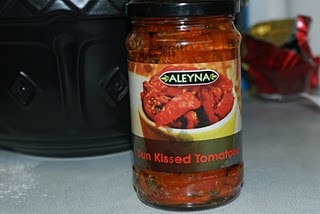 In a small bowl place the dried yeast.  Add a little of the liquid and mix well.  This gets the dried yeast started and helps you along the way!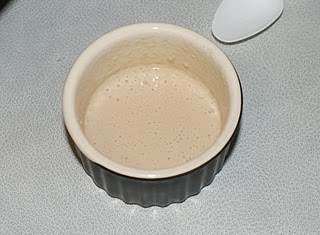 Make a well in the centre and add the water and yeast.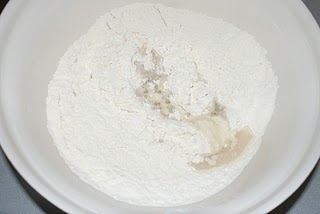 Work together with your hands to form a rough dough.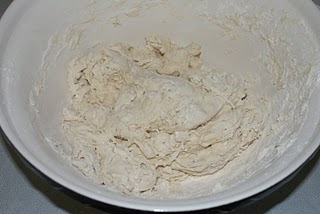 Knead the dough well on your work surface for ten minutes if making by hand.  Adding a little flour to the surface if the dough appears too sticky.
Alternatively you can knead in a stand mixer for 6 minutes or use the dough setting on a breadmaker.
Once the dough is smooth and elastic place in a lightly oiled bowl, cover with clingfilm and leave to prove in a warm draught free place for an hour or until doubled in size.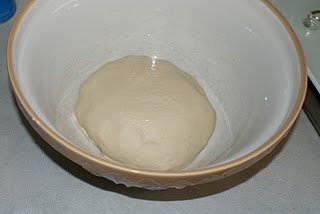 Once nicely risen and puffy tip the dough onto the worksurface and knead lightly to knock back.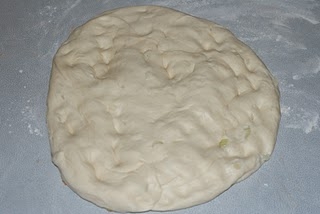 Roughly chop the sunkissed tomatoes.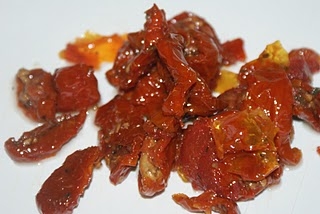 Flatten out the dough and add the tomatoes and grated parmesan.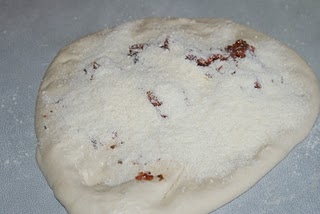 Work the dough well kneading through the tomato and parmesan until well distributed.  To begin with it will seem quite difficult due to the oil from the tomatoes and the cheese but keep going it will smooth out again!
Divide the dough into 6 equal pieces.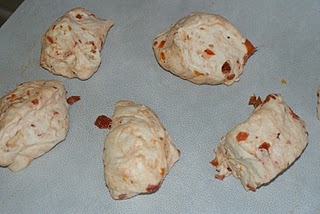 And before you say there's only five – there's one hiding out of shot!
Shape into rolls  – there's a bit of knack to this if you want them to rise upwards and not just outwards.
Take each piece and flatten out on the work surface.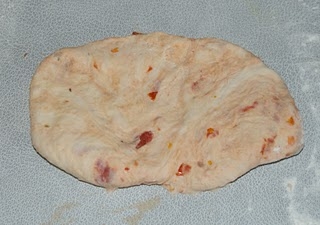 take the edges and fold in pressing into the centre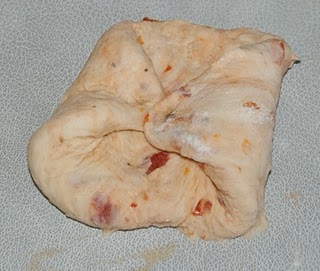 Keep repeating the folding in until you can't fold in any more!  This folding creates a spine for the roll which helps with the upward action rather than flowing outwards.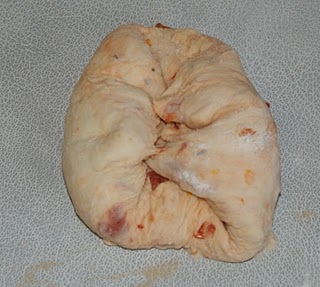 Flip the roll over and coax gently into more of a round shape if necessary.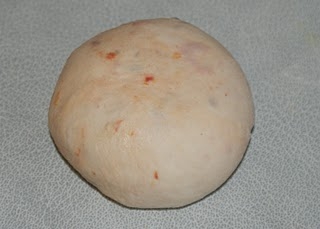 Place on a well floured baking tray, I'm also using a sheet of bake o glide as I can be sure then that they won't stick!
Slash the tops of the rolls with a really sharp knife.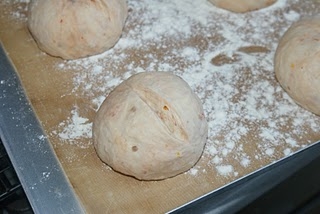 Cover again with a clean tea towel and allow to rise in a warm spot until risen and puffy (30 mins-1 hour).
Preheat the oven to 200c Fan/220c/Gas Mark 7.
Brush the tops of the rolls with oil from the jar of tomatoes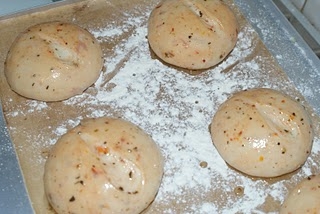 Bake in the oven for 18-20 minutes until golden.
Serve warm fresh from the oven or allow to cool on a wire rack.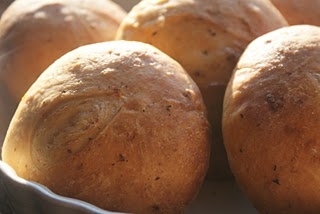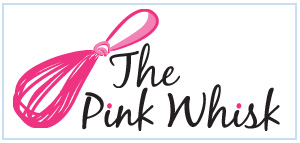 Ruth Clemens, Baker Extraordinaire
Finalist on BBC2 The Great British Bake Off