Rolls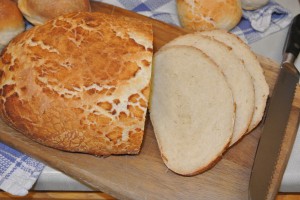 Tiger bread is delicious, there's no doubt about it.  Lovely soft white bread with a crispy crunchy crust.
But did you know that it's really easy to make it at home too?
Here's how
Ingredients:
1 x Quantity of Basic White Bread Dough (recipe here)
Tiger Paste
35ml warm water
1/2 tsp dried fast action yeast
1/2 tsp caster sugar
1/2 tsp vegetable or sunflower oil
15g rice flour (rice flour also makes really great crunchy shortbread if you were wondering what else you could use it for!)
Make the bread dough as per the instructions here and allow to rise in a bowl until doubled in size.
…
Read more...