Rolls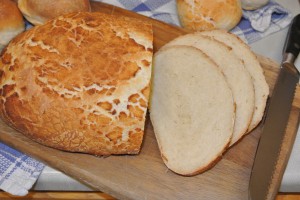 Tiger bread is delicious, there's no doubt about it.  Lovely soft white bread with a crispy crunchy crust.
But did you know that it's really easy to make it at home too?
Here's how
Ingredients:
1 x Quantity of Basic White Bread Dough (recipe here)
Tiger Paste
35ml warm water
1/2 tsp dried fast action yeast
1/2 tsp caster sugar
1/2 tsp vegetable or sunflower oil
15g rice flour (rice flour also makes really great crunchy shortbread if you were wondering what else you could use it for!)
…
Read more...