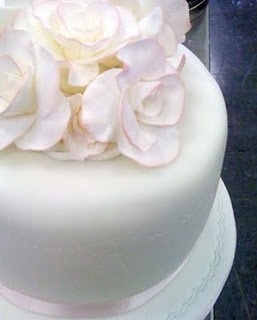 Here's the recipe for my perfect wedding cake.  Because sometimes you need a fruit cake that tastes great without maturing and one that cooks fairly quickly – like when you have 11 hours to make the whole darn thing…
I will be doing a separate tutorial for sugarpaste roses later on this week.
If you're planning on baking your own wedding cake, or one for someone else you really need to think well in advance.  Cakes can be made 3 to 6 months earlier and then wrapped well in baking paper and clingfilm and allowed to mature for the very best flavour.  Wedding cakes are an expensive investment – the price reflects the amount of hard work and dedication that goes into it.  But that's no reason not to make your own – my top tip would be to practice it – check you are happy with the cakes and the design. Iron out any bits your not happy with.  A lot of folks say they don't like fruit cake – I'm adamant that's because they've never found the right fruit cake.  Find the recipe that's right for you and you'll be hooked!
So here it is, no nuts or cherries (because I'm not keen on them or rather the boys aren't) but they can be added in if you like, don't stress about the quantities add them however you like and judge it by eye.  Three versions for you for a 6″, 9″ and 12″ cake.
Ingredients:
                                 6″                                        9″                   12″
Butter, softened          115g                                           250g                     375g
Dark brown sugar         70g                                         150g                     225g
Caster sugar               45g                                               100g                     150g
Zest of orange            ½                                                  1                         1½
Eggs, large                    3                                                  8                          12
Vanilla extract            2tsp                                          3tsp                      4 tsp
Treacle                      1 heaped desert spn  2 heaped desert spns   3 heaped desert spns
Self raising flour          140g                                     310g                      465g
Bicarbonate of soda      ½ tsp                                 ¾ tsp                    1 tsp
Ground cloves              ½ tsp                                    ¾ tsp                     1 tsp
Cinnamon                    ½ tsp                                        ¾ tsp                     1 tsp
Currants                     125g                                            275g                     410g
Raisins                       170g                                             375g                     560g
Sultanas                     255g                                            565g                     850g
Baking Time                1 hour 20 mins        1 hour 45 mins      1 hour 45 mins
at 160c Fan/Gas Mark 4
Preheat the oven to 160c Fan/Gas Mark 4.
Line the sides and base of your chosen tin. (See notes on tins at the end of this post)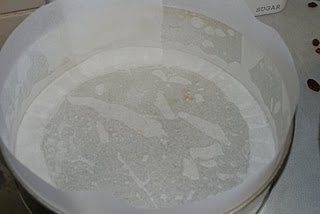 Cream together the butter and sugars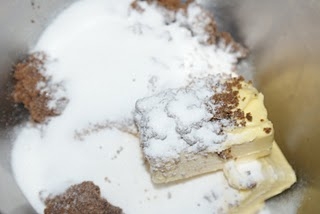 Add in the zest of orange and the treacle, beat well.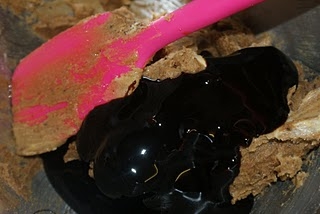 Measure out all the dry ingredients and all the fruit and place in two separate bowls.  The fruit needs to be in the biggest bowl you've got!  Sometimes when making a large fruit cake I use a big plastic box – you need room to mix without spilling it all over the place.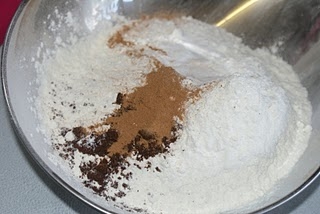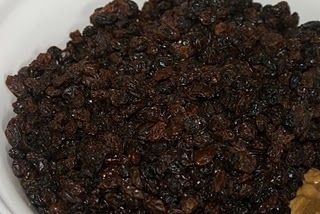 Crack the eggs into a jug add the vanilla extract and beat into the creamed butter mixture a little at a time, add in a couple of spoons of the flour mixture at any sign of curdling.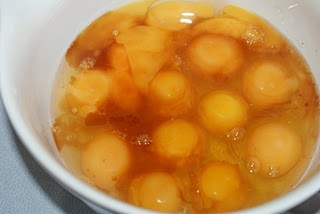 Once all the eggs are in add in the remaining dry ingredients and mix well again.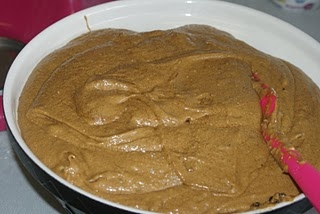 Now tip the cake mixture onto the fruit and using a good solid long handled spoon mix well.  For large cakes you need muscles for this bit.  Make sure all of the fruit is broken up and coated with cake mixture.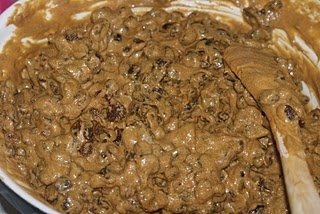 Now into the tin.  Add the mixture carefully trying not to get any mix onto the lining of the tin.  When the cake is cooking any smears on the baking paper will make it smell like the cake is burning and you will check it in a panic.  The cake isn't burning it's those little bits of mixture on the baking paper.
Now into the oven for the times stated above, place the shelf one third of the way up from the floor of the oven.  When the cake is done a skewer should come out clean when you test it.  Keep your eye on it during baking especially if you have an electric oven with a top element that doesn't turn off – this can burn the top of your cake so you may need to cover the top with baking paper to protect it.
Remove from the oven and allow to cool in the tin and then use any which way you choose.  I'm going to turn these into another three tier wedding cake for our Royal Wedding Street Party (watch out for the pics over on facebook)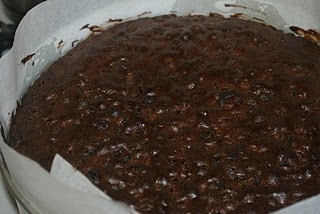 Tins – Good tins are essential when making fruit cakes.  Fruit cakes have a longer bake time that sponges but need a good tin to conduct the heat evenly and thoroughly.  They need good strong sides so that the crusts of the cake don't go hard and dry.  I recommend Silverwood and Invicta tins – once you've got them you've got them for life. x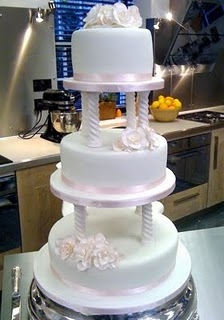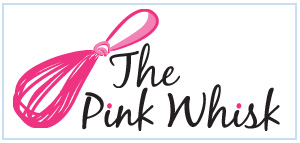 Ruth Clemens, Baker Extraordinaire Finalist
on BBC2 The Great British Bake Off