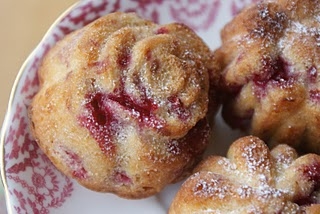 Little White Chocolate and Raspberry Cakes – another perfect little wedding treat – bag them up and tie with ribbon or place them in teeny tiny presentation boxes as cute little favours a little bit different!
These are baked in a silicone flower mould by Pampered Chef Silicone Flower Mould –
Pampered Chef.
Lots of Pink Whiskers are Pampered Chef consultants so in the interest of fairness please visit www.pamperedchef.co.uk to find your own local consultant.
The silicone pan has beautiful flower shapes in three designs rose, daisy and sunflower.  It has a metal rim to keep the mould sturdy and manageable when working with it.  But what I love most about it is the fact that Pampered Chef advise you to grease the pan each time you use it which is key to getting the moulded cakes out cleanly without ruining the design.
So here we go, rose, daisy and sunflower shaped cakes…
Any shaped mould will do the trick and there's loads available if you search online. The mixture will also bake as an 8″ cake if you're not wedding/occasion baking.
Ingredients:
150g butter, melted115g caster sugar3 eggs, large1tsp vanilla extract170g self-raising flour, sifted75g white chocolate, grated150g frozen raspberries
Preheat oven to 180c/160c Fan/Gas Mark 4.
Grease the silicone cake mould with a spray oil such as fry light or some melted butter and a pastry brush.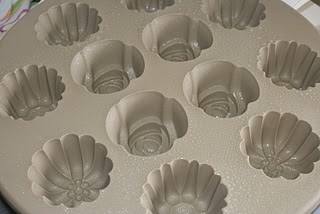 Melt the butter and leave to stand until just lukewarm.
Whisk together the melted butter, sugar, vanilla extract and eggs.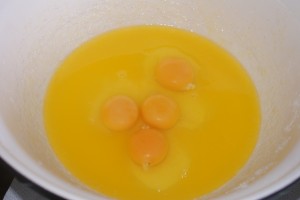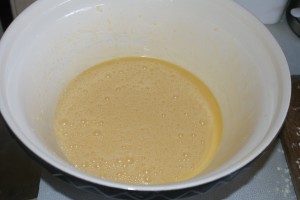 Add the sifted flour and fold in.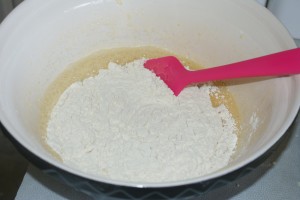 Grate the white chocolate.  Using a box grater will stop the pieces of chocolate flying all over the kitchen.  Obviously it gets tricky not to grate your fingers as you get down to the last little bits – save yourself injury and eat those!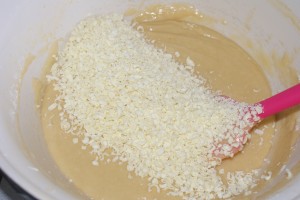 Add the chocolate to the cake mixture and mix in thoroughly.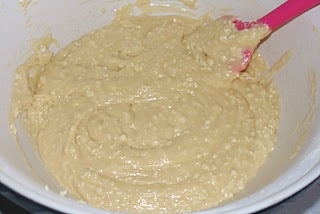 Now take your raspberries from the freezer.  Keeping them frozen hard until it's time to use them means that they mix in easily without smashing into nothing and bleeding through the mixture.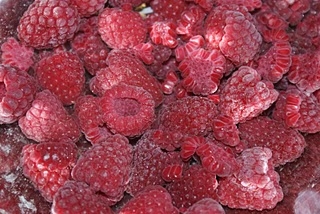 Lay the raspberries on a chopping board and using a knife press the blade across the raspberries one by one.  They will shatter into pieces – this is exactly what we want.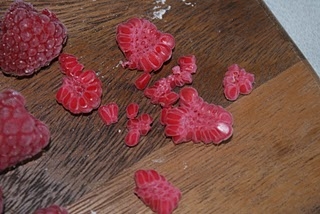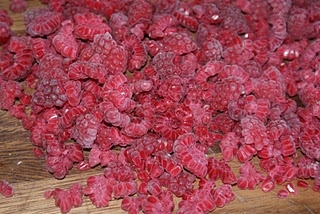 When they are all broken up add them to the cake mixture and fold in well.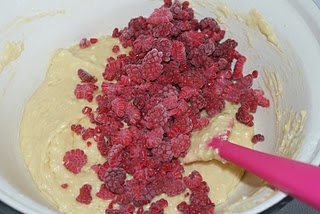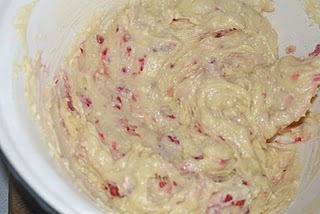 The mixture may feel slightly frozen which is caused by the frozen raspberries.  Don't worry go ahead and fill each recess of your cake pan 2/3rds full and place in the oven to bake for approx. 25 minutes.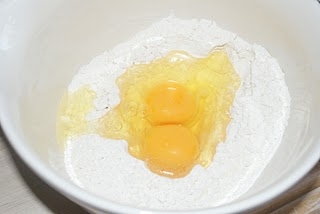 When baked to perfection remove from the oven and allow to cool in the pan for 15 minutes.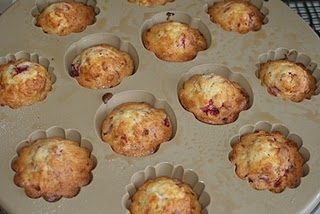 Loosen the edges of the cake away from the mould using your fingers.  Place a cooling rack over the top of the pan and flip it over to release the cakes.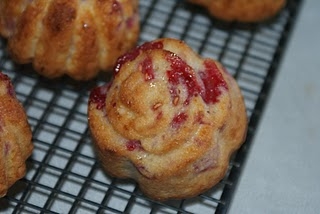 Leave to cool to room temperature then cut off the domed bases with a serrated knife so that they will sit straight on the plate.  You get to eat these bits too.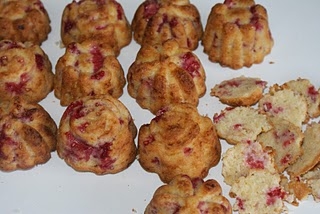 Serve with a dusting of icing sugar – that's all these little lovelies need!
Tip: Because of the moisture from the raspberries these cakes will only keep for a day or two if you're making them in advance let them cool and then freeze, you can then defrost them just when you need them.  Store in an airtight container.
And here's the good news – I have two Pampered Chef flower moulds to give away!  To be in for the winning you need to do two things:
Sign up to receive Pink Whisk updates via email Updates via Email(if you're already subscribed you don't need to do it again)
AND
email your name and address to
pamperedchefgiveaway@thepinkwhisk.co.uk with PAMPERED CHEF in the subject line
The competition will close at 4pm Wednesday 27th April 2011  and 2 lucky winners will be chosen at random from the entries received.
The RulesCompetition is only open to residents of the UK.To qualify you must be signed up to Pink Whisk updates via email and send an email with your name and address.One entry per person, multiple entries will not be counted.Two winners will be chosen at random from the entries received after closing at 4pm 27th April 2011  and the winners will be notified by email.
Visit Pampered Chef for more information and to find your local consultant.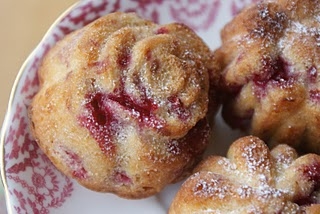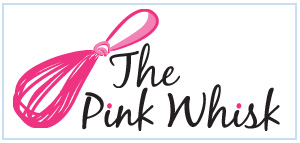 Ruth Clemens, Baker Extraordinaire
Finalist BBC2 The Great British Bake Off 2010