Taking part in The Great British Wedding Cake got me thinking about baking for your own wedding which is well within the realms of possibility for all you Pink Whiskers.  It doesn't have to be the cake, there's lots of wedding treats we can bake up too so I'm kicking off this week with a few little treat ideas and of course the projects from the programme.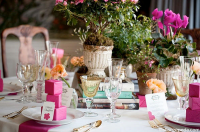 With wedding costs spiralling to the astronomical many of us reign it back with a spot of DIY.  My own wedding   (12 years ago -eek!) was a complete DIY project and probably one of the best and most enjoyable of them all. Mum made my dress, fifty million bridesmaid dresses, waistcoats and the odd cravat here and there, not least her own outfit.  My Mother in law made the cake and I did…. well I did a lot of stuff…oh yes, party bags, flowers and table decorations (I think I got off quite lightly there actually).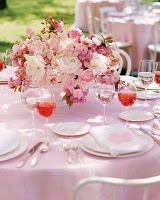 Image – Martha Stewart
My little sister Charlotte gets married next year and yes you guessed it I'll be doing the cake!  I won't say publicly that I have visions of still trying to finish it the morning of the wedding in full bridesmaid regalia otherwise she might worry,  oops that would be too late then.
So until tomorrow's project here's some words of advice from multi award winning Wedding Planner, author and thoroughly lovely lady – Tamryn Kirby.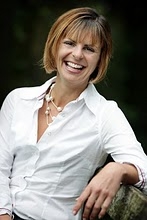 Wedding season is nearly upon us and this year of course, we've also got a Royal Wedding to look forward to so even if you've not been invited to someone's big day, there's no escaping brides, grooms, bouquets, buttonholes and of course, cakes and bakes.
In my opinion, the best weddings are ones that have lots of personal touches – where the couple in question have spent time, and not just money, on their wedding day. Let's face it, anyone can go out and buy coloured co-ordinated favour boxes and decorations but that doesn't really say anything. It's far better to inject a little of yourself into the event and getting a bit creative with some wedding DIY is a perfect way to do this. And really, do DIY details come any sweeter than ones that are edible? Absolutely not…
Edible treats are totally fabulous – guests love them and you can make them personal to you and your day. A few years ago, wedding favours were limited to rather dusty sugared almonds or rather boring sweets – all bought en-masse with no real thought or care. Now, we've got so much more creative with biscuits & cookies, cupcakes, macarons, cake pops, jams, handmade chocolates, pies, mini cakes and fruity tarts, either as favours or served together in a gorgeous dessert buffet table.
But the best thing about all of this is that so many more brides, grooms, families and friends are now baking their own treats and even cakes, for their weddings and I absolutely love this. I bake because I just adore making things that make people smile and imagine how that feeling is magnified when you're making gorgeously tasty delights to share with the people you love the most on such an incredibly special day? My goodness, it doesn't get much better than that. So, throw away thoughts of bog standard, bought in wedding treats, read Ruth's yummy recipes (complete with perfect step-by-step instructions), get into the kitchen and bake some love into your wedding day…
Order 'Unveiled: Confessions of a Wedding Planner' on Amazon now!
Follow me on Twitter – http://twitter.com/tamrynkirby
Read my Blog – http://tamrynkirby.blogspot.com
If you're planning a wedding do head over to Tamryn's blog where there's a wealth of ideas and advice and I'll meet you back here tomorrow fo the first Pink Whisk Wedding Project x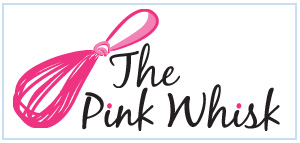 Ruth Clemens, Baker Extraordinaire
Finalist on BBC2 The Great British Bake Off 2010