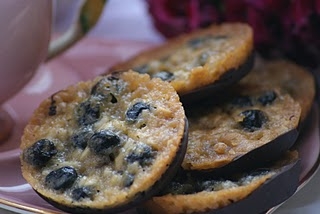 Florentines are notoriously tricky blighters, seemingly simple but accurate measurements are needed (Ruth are you paying attention, no really paying attention?  Okay out come the digital scales).
Florentines also need to go on the tray well spaced apart, another instruction in recipes I fail to 'get' and frequently end up chiselling a sheet of florentines from a baking tray, add to that the messy affair of coating the monkeys in chocolate and we're talking baking disaster tantrums.  Time Florentines had The Pink Whisk makeover – follow the recipe and you'll be making them time and time again (me included).
Perfectly round and easily chocolate coated florentines are made in silicone cupcake trays.  I don't get on well with silicone moulds for cakes but do have a cupboard full so I'm always on the look out for other ways to use them.  Florentines bake a dream in them, I'll never return to baking them on a tray again.  Aside from the fact they're brilliantly perfectly round (appears to me I have some issues with things being uniform?!?) they pop out a treat once baked and make the chocolate coating step a doddle!  If you don't have silicone trays the individual silicone cupcake cases will work a treat too.
Ingredients:
50g golden syrup
50g butter
50g demerara sugar
50g plain flour
60g dried blueberries
40g chopped hazelnuts
150g dark or milk chocolate to coat
Makes 12.
Preheat the oven to 170c Fan/190c/ Gas Mark 5.
As mentioned before you will need to pay attention and measure super accurately for these to work, digital scales are ideal.
Begin by measuring out the syrup, directly into a medium sized pan. 50g on the dot.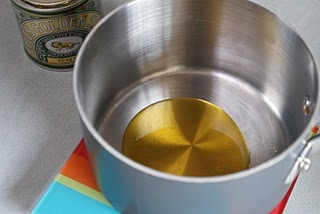 Add the butter and demerara sugar to the pan and heat over a medium heat until the butter is melted.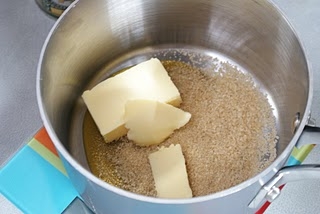 Remove the pan from the heat and add in the flour, dried blueberries and chopped hazelnuts and give it a good old stir up.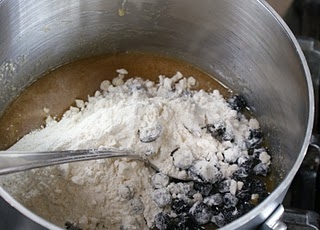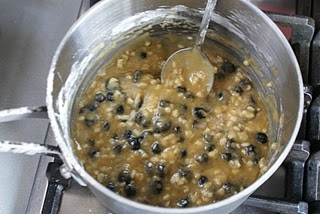 I've tried with fresh blueberries and unfortunately they lose too much juice and ruin the florentines so in this case dried is best.  If you can't get hold of blueberries used dried cherries, craisins or raisins in the same quantity.
Divide the mixture between the 12 recesses of a silicone cupcake tray, it will be approx a heaped teaspoon measure each.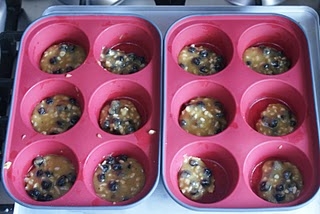 Using the back of the teaspoon gently encourage the mixture to cover the base of each.  The mixture is thick and it will be a little reluctant but they need your help at this point.
Into the oven and bake for 8-10 minutes until golden brown, starting to crisp around the edges and looking a little holey!  A strange instruction however if you bake them you'll know what I mean.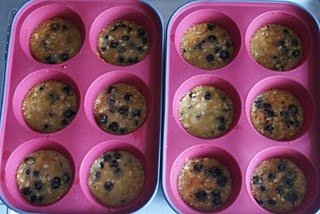 Remove from the oven and allow to cool in the trays.  They'll be soft when they come out so leave them alone to harden up before you pop them out of the trays onto a wire rack.  Do not be tempted just to try one, you'll burn your mouth – don't say I didn't warn you.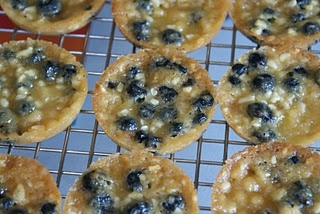 Whilst they're finishing off cooling on the wire rack wash out the silicone trays.  They'll be greasy from the florentines and we need them for the chocolate stage.
Melt the chocolate – milk or dark whichever you prefer – in short 30 second bursts in the microwave.
Place 2 teaspoons of melted chocolate in the base of each recess and spread across the bottom using the spoon.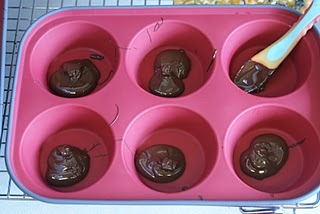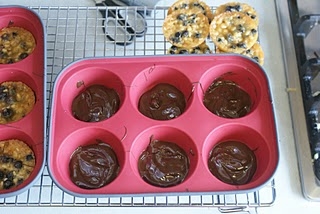 (That's my nephew's baby spoon I'm using – it's the same size as a teaspoon but flexible made from silicone, don't tell him I use them for baking)
Drop each florentine back into the tray on top of the chocolate.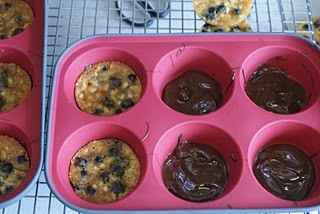 Chill in the fridge to set.
Once the chocolate has set you can flip out the florentines with their fab chocolate base.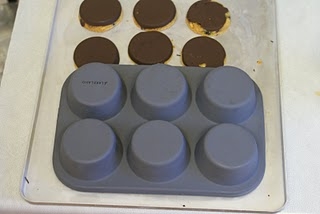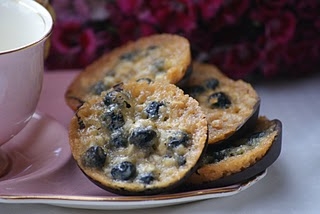 Eat them all before anyone else comes home and knows you even made them – shhhh I won't tell!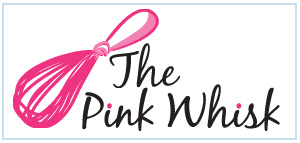 Ruth Clemens, Baker Extraordinaire
Finalist on BBC2 The Great British Bake Off