Friday 8th July 2011 will be the 1st Birthday of The Pink Whisk and goodness what a year it's been!


105 blog posts, one new Stoves oven, countless new cake tins, 23 pots of glitter ;), 6 new baking paraphernalia cupboards fitted in the garage, a husband who has taken over the washing because he was fed up of waiting for me to do it, children who are now astounded if they come home from school and there's no treats awaiting them and last but not least 6,000 cups of tea to get me through the lot!
I'm lucky to say that The Pink Whisk supports my professional career and the opportunities I have had in the past year are, for me, beyond belief; working for brands such as Sainsburys, Nielsen-Massey, Disney, Dr Oetker, Cadbury (and yes I was paid in chocolate), being featured in the Mail on Sunday's You Magazine, a contract for a cake decorating book and teaching a range of baking and cake decorating courses through cookery school Seasoned to name just a few.
So what can you look forward to?  Well, I'm about to have some recipes printed in Making Magazine, the website is getting a design makeover from the professionals and there's still lots of exciting projects on the go that I can't reveal just yet (I know that's just mean of me!)  Stick with me and you'll be the first to hear.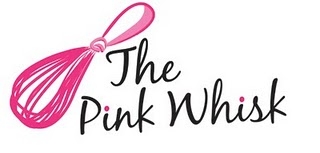 A sneak preview of the new logo xx
And before you all ask where's the baking book?  It'll come but I'm holding out for step by step photography and finished product shots of every recipe – that's the way I do it and I don't see why a book should be any different.  I think you'd be disappointed if it wasn't?
And the reason I do it all?  That would be for you lot, the 4,600 of you subscribed to The Pink Whisk who enjoy baking as much as I do.  It's as simple as that, The Pink Whisk is for you.  Whilst you still want to bake I'll still come up with the recipes.  So here's to another year of The Pink Whisk who knows what it will hold.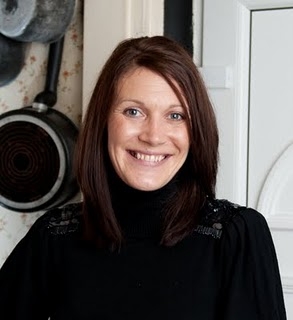 Ruth  xx
PS. Don't forget to join me for The Pink Whisk Birthday Treasure Hunt on Friday 8th July 2011 here from 10.00am onwards (full details here)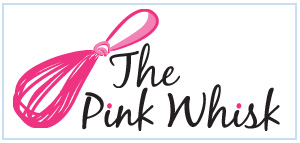 Ruth Clemens, Baker Extraordinaire
Finalist on BBC2 The Great British Bake Off