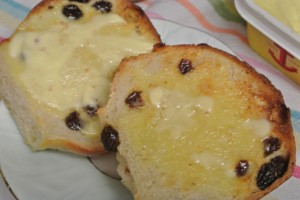 Homemade Teacakes – none of this shout 'whip' if you find a piece of fruit, lovely toasted slathering with butter is of course essential!
Makes 8 Teacakes
Ingredients:
500g strong white bread flour
2tbsps caster sugar
1 tsp salt
2 tsps dried yeast or 1 sachet of fast action yeast
330ml milk, lukewarm
130g sultanas
20g butter, melted for glazing
The dough can be made by hand (muscles at the ready), on the dough setting in a breadmaker or with a stand mixer – my method of choice, I'm a weakling or a lazy lump take your pick!
Add the flour, sugar, salt and dry yeast to the bowl of the mixer.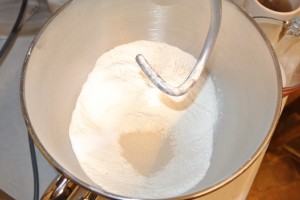 Measure out the milk and warm gently either in the microwave or in a pan.  It should be lukewarm – the warmth gets the yeast going straight away.  Now before you add it to the mixture check the measurement.  A key part of making sure a dough is not too tough or too sticky is measuring the liquid content correctly.  When I do this double check I often find the milk has either magically evaporated slightly or has multiplied in volume, nothing at all to do with measuring incorrectly you understand?!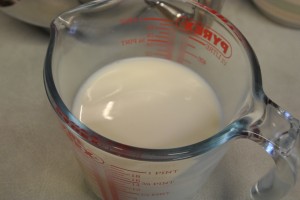 So, add the right amount of milk, 330ml, to the dry mixture.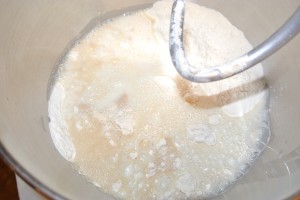 Turn the machine on, to medium speed and let it knead the mixture for you for five minutes. After five minutes turn it off and let it rest five minutes, then back on for another five.  Watch out the mixer can't go jumping off the counter, keep your eye on it, set your mixer up on the floor, at least there it can walk without leaping from a height
If you're being good and doing it by hand bring the dough together and knead for ten whole minutes, set the timer or you'll cheat.  Don't add any extra flour to your worksurface, it will make the dough tougher.  It might be a little sticky to begin with but will soon come together and be manageable for you.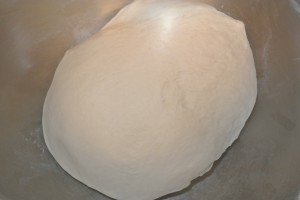 After kneading the dough should be nice and smooth.  Lightly oil a bowl with a little veg/sunflower oil.  Add the ball of dough and turn to coat it.  Don't use a bowl that's too big and roomy a 2litre pudding bowl is just right – then the dough is nice and snug and will fill the bowl once it has doubled in size.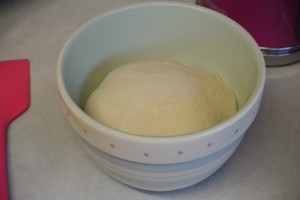 Cover it with clingfilm and put it somewhere warm, for me it has to be the airing cupboard but maybe your husband isn't as mean with the heating!
After an hour to an hour and half the dough will have doubled in size.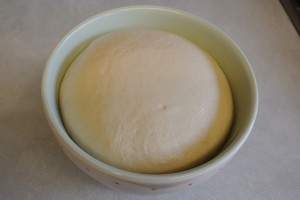 Tip it out onto your worksurface and knock it back, punching the air out of it gently with your fists.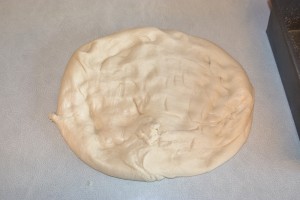 Spread the dough out into a rough flat shape and add the sultanas.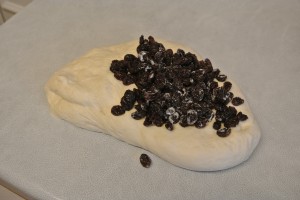 Gather the dough up around the fruit sealing it inside,  now you need to the knead the dough to incorporate the sultanas and distribute them evenly.  They'll try and jump out, just keep posting them back in and eventually you'll will the fight.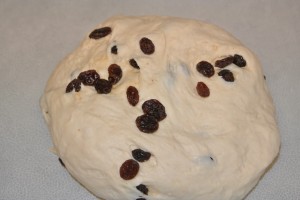 Split the dough into 8 equal sized pieces, if you're measuring they should weigh about 125g each, but doing it by eye will add to their homemade charm.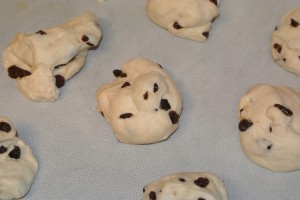 Form each piece into a round ball, place your hand over the ball like a cage with your fingertips touching the surface, move your hand in a circular motion keeping the tips of your fingers touching the worktop.  That should turn them into neat rolls for you.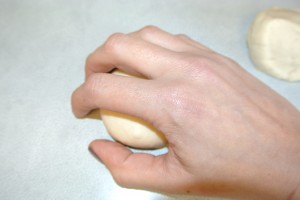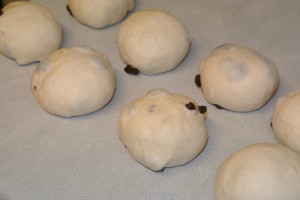 Prepare a baking tray by greasing well, lining with baking paper or bake-o-glide.
Line up the teacakes in two rows.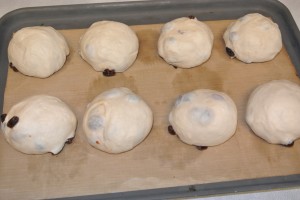 Cover them with a clean tea towel and leave them to rise again for half an hour or so until puffy and doubled in size.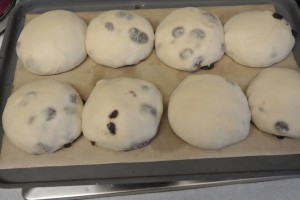 Preheat the oven to 180c (Fan)/200c/Gas Mark 5.
Once the teacakes are risen nicely bake them in the oven for 10 minutes.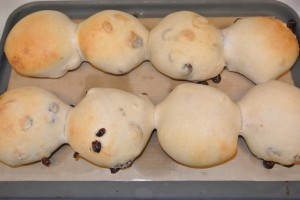 Melt the butter and after the ten minutes take the teacakes from the oven and brush liberally all over with the butter.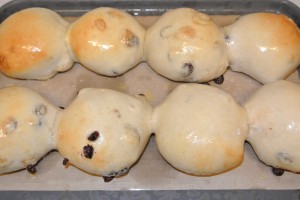 Return to the oven for a further ten minutes to finish baking.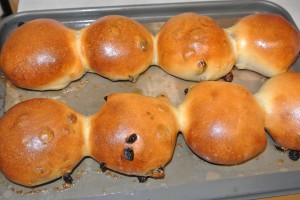 Remove from the oven and allow to cool for a couple of minutes on the tray before transferring to a wire rack to cool completely.
Homemade teacakes are best eaten within a day or two of baking, they can be frozen as soon as they have cooled if you don't have a hoard of hungry gannets waiting for them to be toasted and served!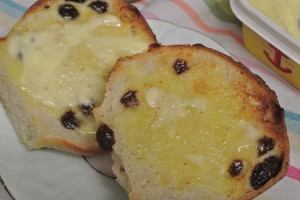 Homemade Teacakes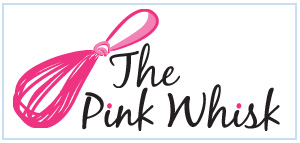 Ruth Clemens, Baker Extraordinaire