Arrived safely in Rwanda with the team.   I'm going to admit I'm a bit shell shocked – travelling so far on my own is in itself a big milestone for me let alone suddenly finding myself immersed in an African city.  Based in the capital of Kigali we've spent the day doing some country briefings and have learnt some shocking stats gathered for the Life Free From Hunger campaign.
Great improvements in Rwanda have been made in child mortality with the introduction of successful childhood vaccination programmes and increasing numbers of children sleeping under mosquito nets and is really great news to hear. Sadly though nearly 50% of Rwandan kids are still suffering from chronic malnutrition – the hidden hunger.  It's clearly something that needs changing.
This afternoon, we visited the bustling Kimronko market – the range of produce on offer is immense – beans, potatoes, fresh peas, aubergines, tomatoes, pineapples, bananas, peppers, chilli and herbs, the list goes on!
Naturally the people here are rather dubious of cameras – hence the lack of photos I have to share with you from today, but they're all very curious and friendly – especially the younger men and women working in the market and the calls of 'Wazungu' (translated as 'white man') followed me around like an echo!
There are stalls selling all manner of flours; Maize, Ground Nut, Sorghum the most popular is Cassava which is a major staple.  Cassava roots are dried and then ground into flour.  Despite them being high in carbohydrates they come nowhere near providing the levels of fat and minerals that we get from wheat flour.  Wheat flour is fairly uncommon but is available and is used to make all sorts of cakes and breads,  these cater more for the wealthy inhabitants and of course for the tourist market.
I spotted these brioche type breads shaped as turtles!  Creative baking with a price tag of only 600 Rwandan Francs which equates to around 70 pence.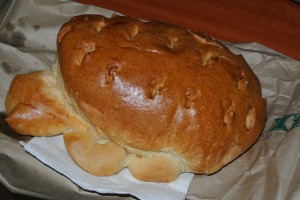 The lady selling Cassava flour invited me to do a bit of sifting with her – I'm not sure why my technique seems so funny!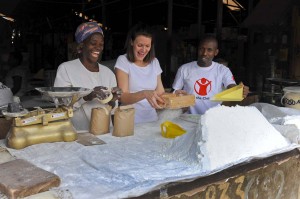 So I know you'll be asking yourself why are children malnourished when food is plentiful?  The poorest of families just can't access the nutritious goods available here, soaring food prices of the Rwandan staples maize, vegetables, meat and cassava flour have put paid to that.  A lot of the produce in the market is homegrown and must be sold for money to buy other things rather than to feed their families.
Despite what you may imagine, Rwanda is lush and green with very fertile land – perfect for growing.  It's a densely populated country and for many families growing their own is not an option – they simply don't have the space.  Everywhere you look the hillsides are very heavily cultivated with every inch used – right up to the tops of the steepest inclines.
I'll soon be able to share with you the steps being taken to put an end to the hidden hunger with visits planned for tomorrow to a STC health care centre, a government hospital treating malnutrition and visiting the families affected.
Most of all though these children need you to support the campaign.  Help us to urge David Cameron to lead a big push in ending hunger by naming a day when he'll host a global hunger summit.
Please pledge your support here – Save the Children and name your own day when you'll do something to help the campaign.  
This can be anything that takes your fancy – on your day tweet about it, share the campaign on your facebook status, blog about the campaign and share it with your readers, bake a cake and take into work to share with your colleagues anything you can think of.
Talking about the campaign and spreading the word is all it's going to take and I know we can do it if we all work together.
More tomorrow,
Ruth x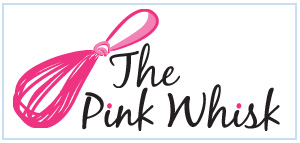 Ruth Clemens, Baker Extraordinaire