with a Pink Whisk Twist of course
Three ways to use this dough – as a loaf, whirls or the traditional buns – who could resist?
Ingredients:
Dough
315g strong plain white flour
1/2 tsp mixed cake spice
1/2 tsp salt
2 tsp dried fast action yeast (or 1 sachet)
25g caster sugar
205ml milk
1 egg, large
zest of 1/2 and orange
100g currants
Filling
60g dark brown sugar
1 1/2tsp cinnamon
A little water icing to glaze (optional)
Makes 1 x 1lb loaf, 10 whirls or 8 buns
Place the flour, mixed spice, salt, caster sugar, orange zest, yeast, egg and currants in a large bowl.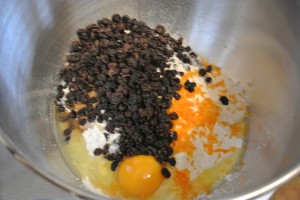 Gently warm the milk until it is lukewarm.
Pour  into the bowl and bring the dough together.  I'm letting the mixer do it for me but it can also be done easily (if you have some muscles) by hand.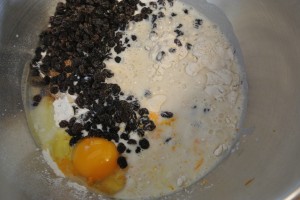 The dough then needs to be kneaded by hand for ten minutes until it is smooth.  Avoid using any extra flour on the worksurface,  if it is too sticky to handle use a drop of sunflower oil on your hands and that should stop it sticking. For me of course there's washing to be put in so I'll let the mixer with the muscles knead it for ten minutes!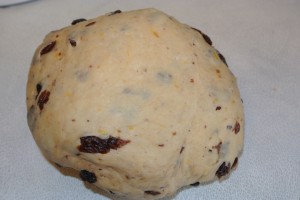 Lightly oil the inside of a bowl and place in the dough, turning to coat.
Cover with clingfilm and leave in a warm spot for an hour and a half to rise.  You are looking for it to double in size.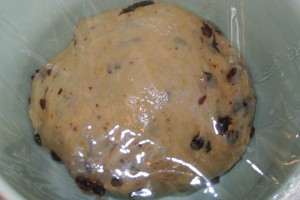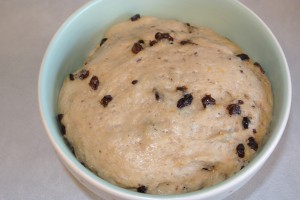 Once the dough is risen lightly grease your worksurface with a little sunflower oil to stop it from sticking.
If you're making the loaf version (my favourite) grease the tin well.
Roll the dough out with a rolling pin into a rectangle with a depth of about 5mm.  Aim for the width to be just slightly less than the length of your tin.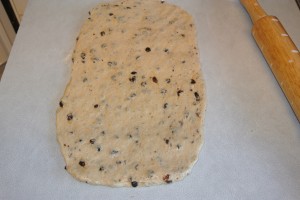 In a bowl mix together the brown sugar and cinnamon for the filling.
Scatter this as evenly as you can over the top of the rectangle of dough.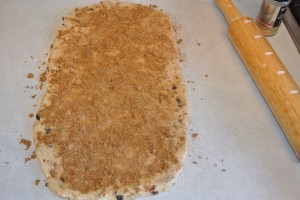 Start to roll up the dough from one end.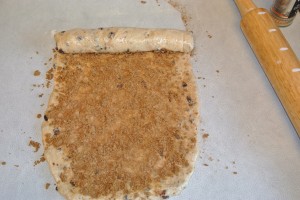 Roll it right up into a log and pinch together the dough at the seam.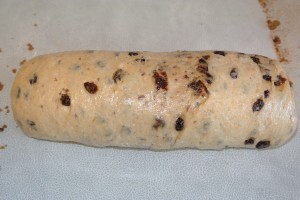 For the loaf version this needs to be placed seam side down into your loaf tin.  Cover with clingfilm and leave to rise in a warm spot until doubled in size.  It should take about one hour.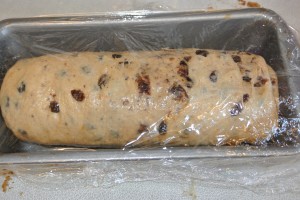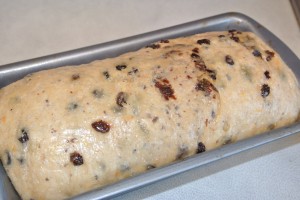 For the whirls take a sharp knife and lightly grease the blade with a little more sunflower oil.  This will stop the dough from sticking to it as you cut.  You may have to regrease it half way through.
Cut the log into 2cm thick slices.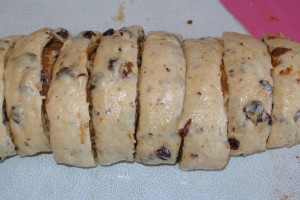 Set them well spaced apart, cut side up on greased or lined baking trays.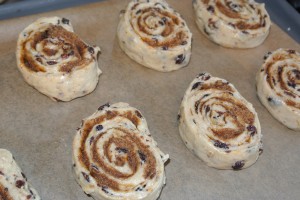 Cover with clingfilm and leave to rise for an hour somewhere nice and cosy.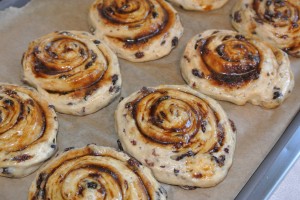 To shape traditional type of hot cross buns split the dough into 8 and roll into balls.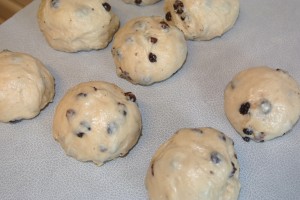 Mark a cross on the top with a sharp knife.  Place them on a lined baking tray, cover with clingfilm and leave to rise for an hour.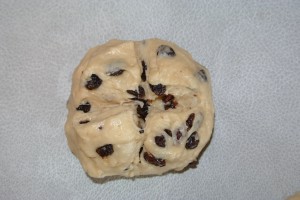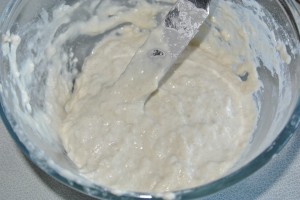 Mix up 100g plain flour with a little water (2-2 tablespoons) – you're aiming for a thick pipeable consistency similar to toothpaste.  Beat it well until there are no lumps.  If you've added too much water and it's too sloppy add in an extra spoonful of flour.  When the buns have doubled in size pipe the flour paste in the cross marks you made earlier.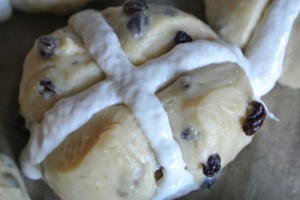 Preheat the oven to 180c (fan)/200c/Gas Mark 5.
Once your loaf, whirls or buns are ready for the oven, in they go!
The whirls will need 12-15 minutes to bake, buns 20 minutes and the loaf will take 35 minutes.  Keep an eye on the top of the loaf and if it's getting too dark cover it with a piece of foil.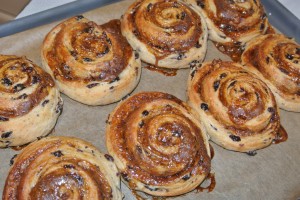 Remove from the oven and transfer to a wire rack to cool completely.  The buns like to be glazed with a little warm apricot jam or honey as soon as they are out of the oven for the ultimate sticky bun!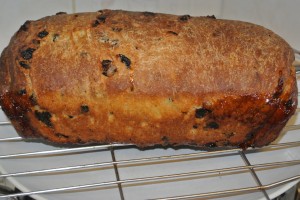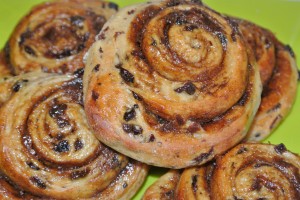 Drizzling them with a little water icing is completely optional – I couldn't resist!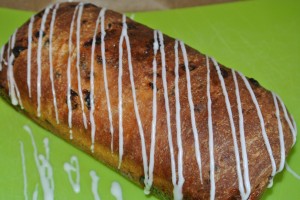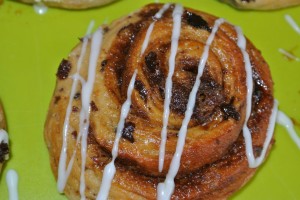 The whirls and buns are best eaten the same day (or can be frozen once cooled before icing),  the loaf will keep upto three days.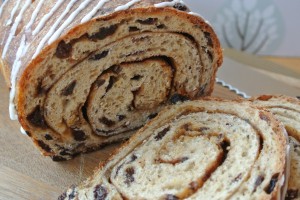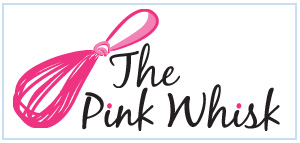 Ruth Clemens, Baker Extraordinaire