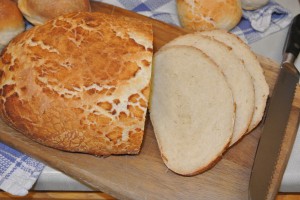 Tiger bread is delicious, there's no doubt about it.  Lovely soft white bread with a crispy crunchy crust.
But did you know that it's really easy to make it at home too?
Here's how
Ingredients:
1 x Quantity of Basic White Bread Dough (recipe here)
Tiger Paste
35ml warm water
1/2 tsp dried fast action yeast
1/2 tsp caster sugar
1/2 tsp vegetable or sunflower oil
15g rice flour (rice flour also makes really great crunchy shortbread if you were wondering what else you could use it for!)
Make the bread dough as per the instructions here and allow to rise in a bowl until doubled in size.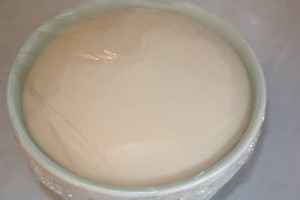 Tip the dough out onto the worksurface and knead lightly for a couple of minutes.
Free-form loaves need more work to shape them than if you were using a tin.  You need to form a good spine in the dough to encourage the dough to rise upwards instead of flowing outwards as there's no tin to hold it in the right shape.
Flatten out the dough into a rectangle, start folding the edges into the centre, keep folding in to tighten up the dough and to form a long loaf shape that is slightly tapered at each end.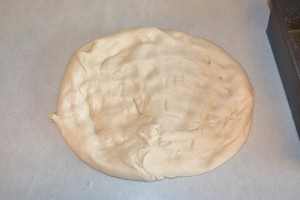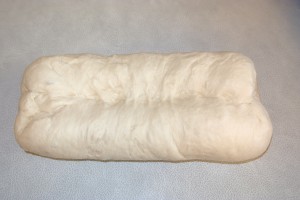 Once you can fold in no more turn the dough over so that the seam is underneath.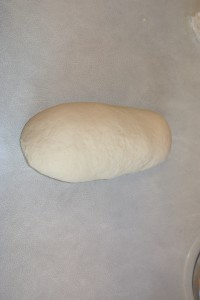 Cup your hands along either side of the dough and tighten the loaf up a little more by tucking the dough underneath the loaf, like you were tucking a sheet in under a mattress! (you'll use both hands, one either side of the loaf – I haven't figured out how to use both hands and take a photo at the same time yet, leave it with me…!)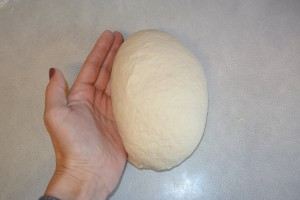 Keep tucking until it feels tight and you can tuck no more!
Transfer your shaped loaf to a well greased or floured baking tray and cover with a clean tea towel.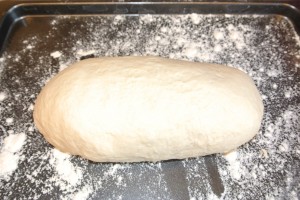 Mix together the tiger paste ingredients in a small bowl or jug using a fork.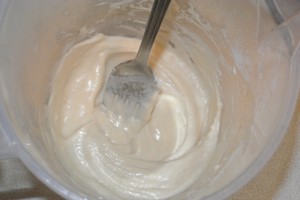 Allow the mixture to stand for ten minutes before using.
Using a knife, a palette knife is best, spread the tiger paste across the top and sides of the loaf in a plastering action.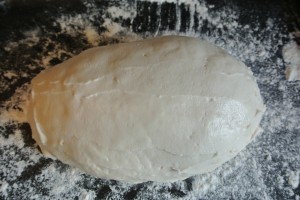 Place the loaf, uncovered in a warm spot to rise until doubled in size (30-45minutes).  As it rises the paste will start to crack.
Preheat the oven to 180c (fan)/200c/Gas Mark 5.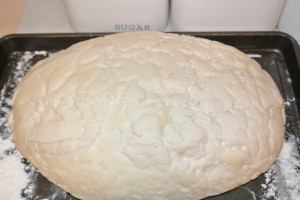 Bake in the oven for 35 minutes until the tiger paste is crisp and golden, and when tapped on the base the loaf sounds hollow.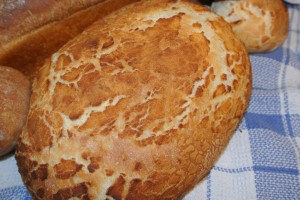 If your tap is dull the loaf is slightly underbaked and will need another 5 minutes in the oven to finish cooking through.
Transfer to a wire rack and allow to cool completely.
Best eaten within two days or frozen as soon as it has cooled completely.
Tiger paste can also be used on rolls, plastering on before the second rise as per the loaf.  Bake time for rolls should be 15-20 minutes.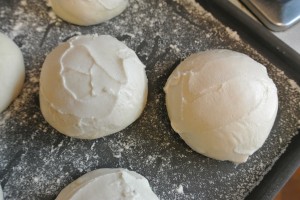 Sainsburys recently rebranded theirs as Giraffe Bread after receiving a letter from a 3 year old girl pointing out it looked more Giraffe than Tiger! – you can read the full story here.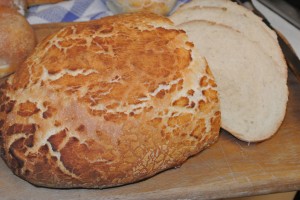 Tiger Bread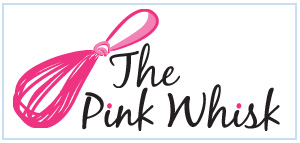 Ruth Clemens, Baker Extraordinaire