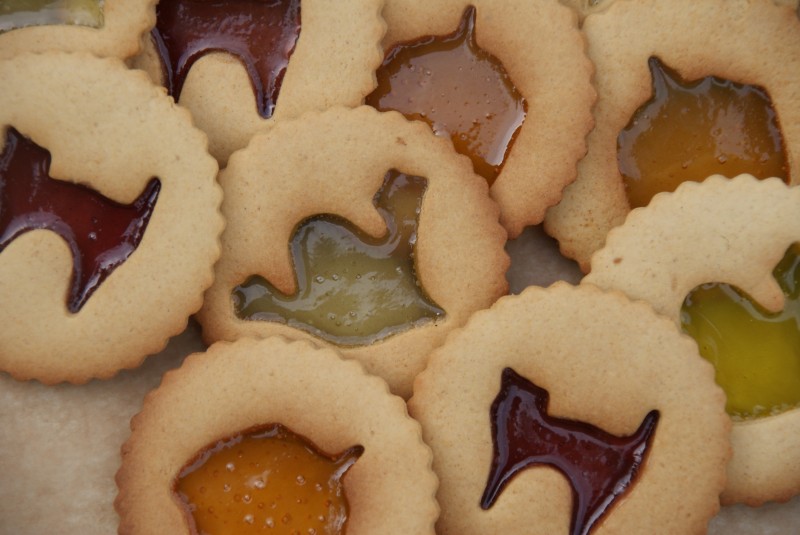 One for the kids to help with, my boys never seem to tire of this old school baking idea and will put mini Halloween cutters to good use!
Ingredients:
450g plain flour
1 tsp ground ginger
1/2 tsp ground cinnamon
1/2 tsp bicarbonate of soda
115g butter
100g soft light brown sugar
1 egg, large
150g golden syrup
1 x pkt clear boiled fruit sweets
Makes 24.
Preheat the oven to 180c (fan)/200c/Gas Mark 5 and line a couple of baking trays with non-stick baking paper.
You'll need some mini Halloween cutters – I bought these last year from Lakeland and they're selling them again this year too and a round cookie cutter too (about 7cm round)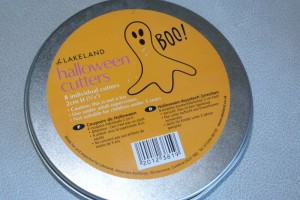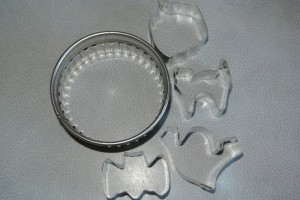 Cream together the butter and sugar until it's light and fluffy.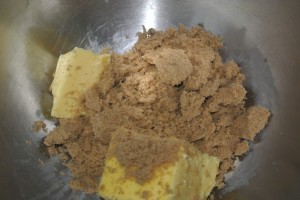 Add the egg and beat well.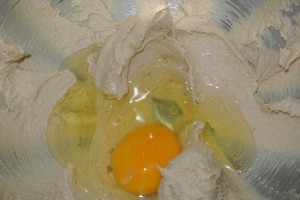 Now in goes the golden syrup and mix it up until even.
Add the flour, ginger, cinnamon and bicarbonate of soda and work it together to form a dough.  Spoon at first but then you need to get your hands in for the last bit!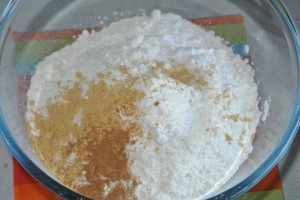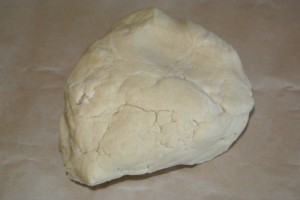 Now you can roll it out, in portions, on a lightly floured worksurface but you know I like to roll out between two sheets of baking paper.  Saves me having to clear up the mess afterwards!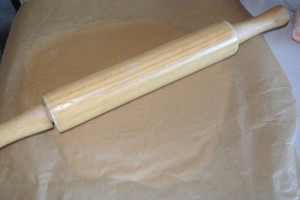 Roll it out about 5mm thick and cut out round biscuits.  Transfer them onto the baking trays, spaced a little apart.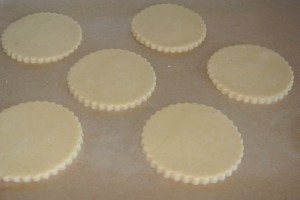 Now to cut out the centres,  it's much easier if they are in situ on the tray and it saves them from pulling out of shape.  If the centres come out whole you can set them on the tray to bake as is.  If you need to wriggle them out with a knife then the bits can be re-rolled to make more biscuits!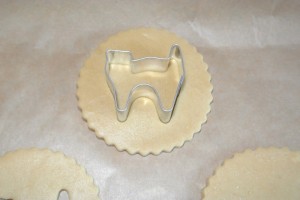 Unwrap the sweets (I'm using Waitrose clear fruits which melt in the oven brilliantly but I've used Fox's Glacier Fruits in the past)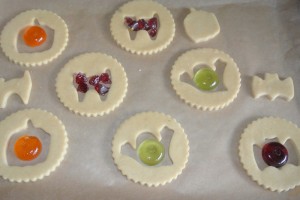 Place one sweet, whole – they don't mind, in the centre cut outs.  For the trickier shapes like the cat they do need to be crushed so you can get them in.
For the pumpkins I've added a whole orange sweet and some shards of green at the top for the stalky bit.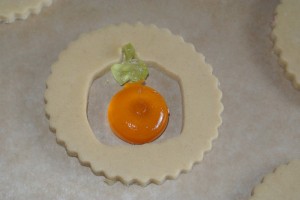 Go multicoloured if you feel like it!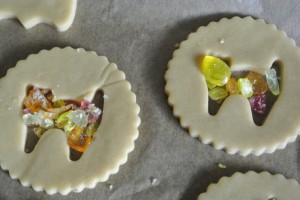 Bake them in the oven for 8-10 mins until they're golden brown around the edges.  The boiled sweet will be very bubbly when they come out but will soon settle down.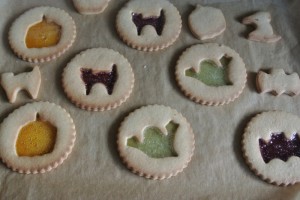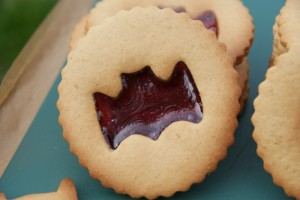 Allow them to cool for 10 minutes on the tray to let the boiled sweet harden up again and then transfer them to a wire rack to cool completely.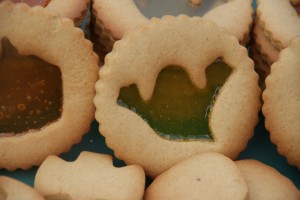 Halloween Ginger Biscuits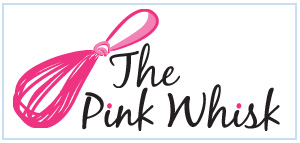 Ruth Clemens, Baker Extraordinaire