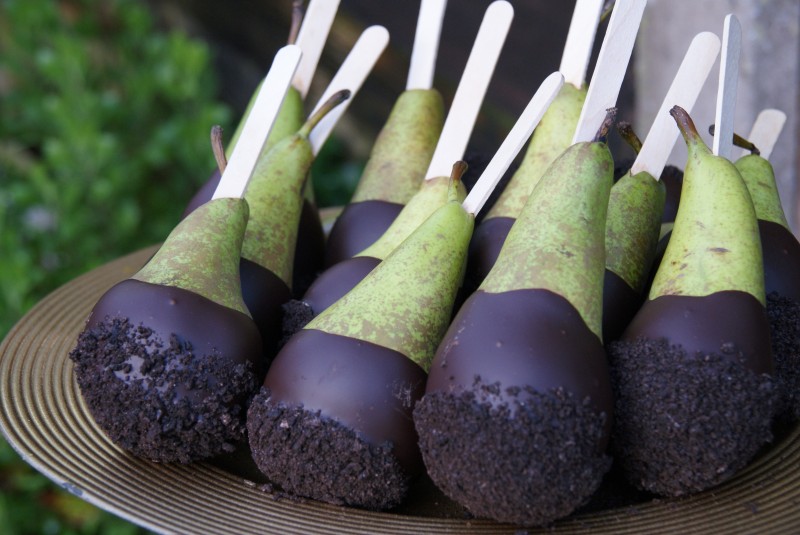 Not so much a recipe, more a gathering together of things!
(No panic, there's a recipe coming tomorrow too)
These pears decided not to let apples have all the fun this Bonfire night and jumped onto sticks too!  Of course if you're after a traditional caramel toffee apple recipe then I can help with that too – just see the recipe here.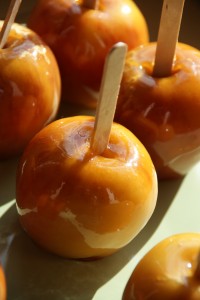 You will need:
6 firm pears
lolly sticks
200g dark chocolate
50g oreos (about 1/3rd of a packet, what you do with the rest of the packet is up to you but I'm sure you won't struggle!  Gingernuts would be great for these too)
Makes: 6
Give the pears and good wash and let them dry fully.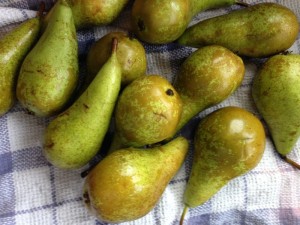 Blitz up the whole oreos in a food processor or smash them into little bits in a sandwich bag with a rolling pin until they're nice and fine.  Transfer them to a small bowl.
Pierce the pears carefully at the side of the stalk at the top and push in the stick so they hold firm.
Melt the chocolate in a small bowl, tempered chocolate if you like the instructions are here for how to.
Set up a tray lined with a sheet of baking paper.
You'll also need something to lean the sticks against, pears don't seem to like sitting straight like an apple does!  The baking paper box was just right for me, I'm sure you can improvise.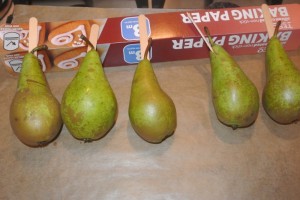 Dip the base of the pear into the chocolate to coat it about 2/3rds of the way up.
Lift it out and let the excess drain off.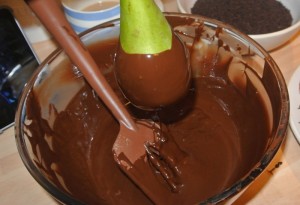 If you haven't tempered the chocolate just make sure you let the melted choc cool down a bit before dipping the pears otherwise it will be very liquid and you'll be draining it off for ever.
Once the excess chocolate has run off, dip it straight into the crushed biscuits.  Don't twist the pear as it rucks up the chocolate just tamp it up and down.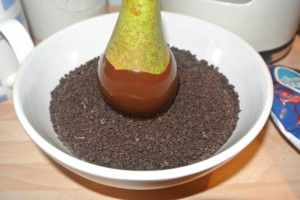 Now set them onto the baking paper, with the stick leaning against the support and let the chocolate set.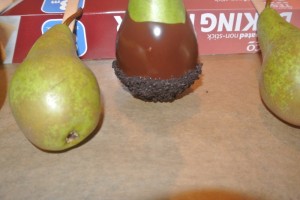 Good to go….where's the bonfire?
These keep really well, as long as the life of the pear, so you can make them a couple of days in advance.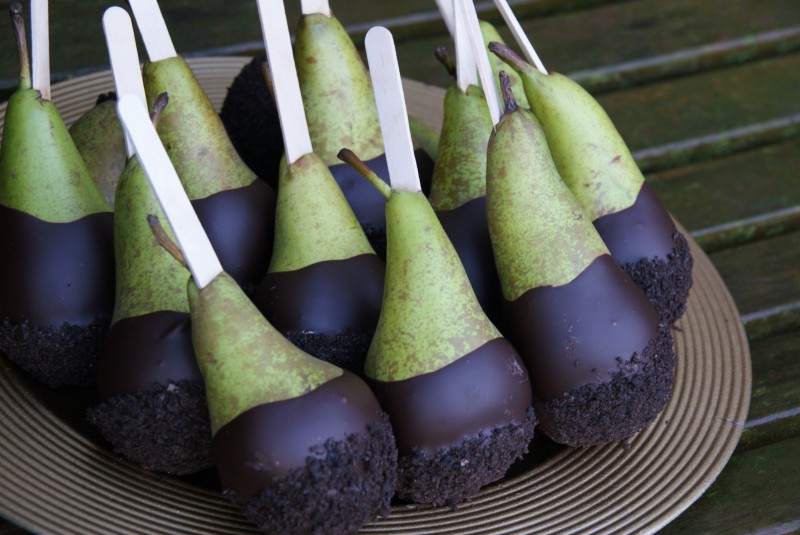 Chocolate Oreo Pears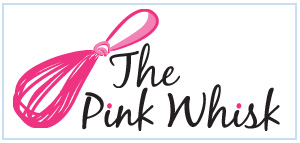 Ruth Clemens, Baker Extraordinaire