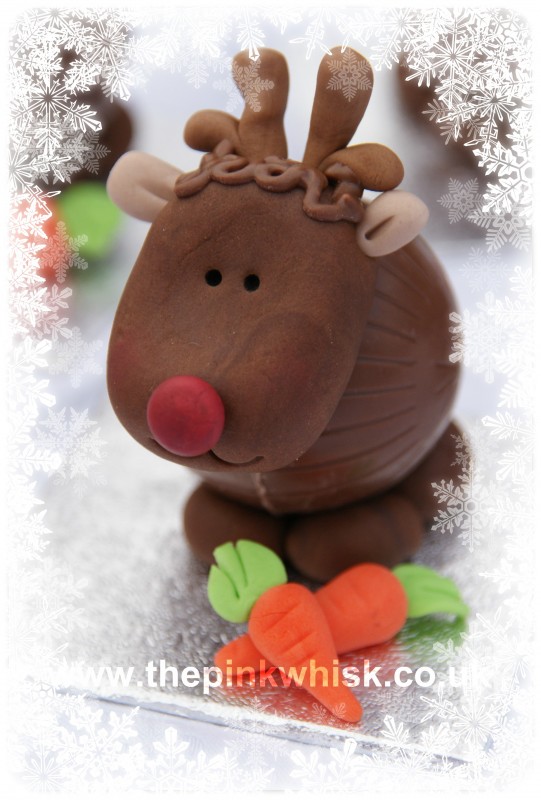 I have had so much fun making a herd of reindeer for Day 5 – I very much hope you'll love these cheeky chappies as much as I do!
The body is a round ball Christmas tree chocolate!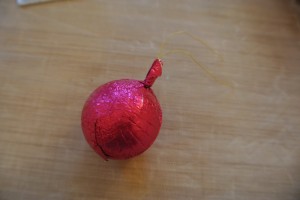 You will need:
Ball/bauble christmas tree chocolates
Chocolate sugarpaste (Sainsburys)
White, red, orange and green sugarpastes
A little melted chocolate
Start off with a little cake card, or something to shape your reindeer on.
Roll four balls of chocolate sugarpaste, two medium sized and two slightly bigger.
Position the balls on the card with the larger two at the back.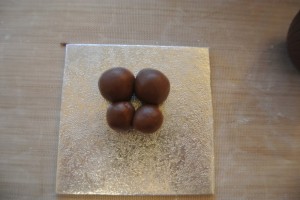 Give the tops of the balls a light brush with water.
Unwrap the chocolate ball and press it onto the balls of paste.
Shape a ball of chocolate paste for the head,  shape the ball a little to flatten it just a little and to make one end slightly thinner.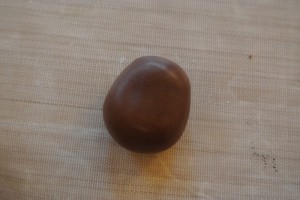 Add a light brush of water to the back of the head to help it stick and then push it gently onto the chocolate body with your thumb.  This helps to curve the face just slightly.
Now with the wrong end of a paintbrush poke four holes in the top of the reindeer's head.  2 for the ears and 2 for the antlers.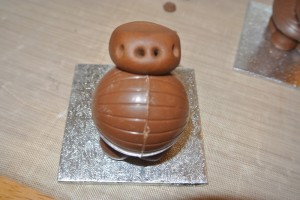 To make the reindeer's mouth, imprint two curves either using a sugarpaste half circle tool or the wrong end of a small piping nozzle.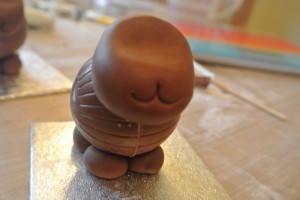 Roll a rosy red ball for the reindeer's nose and stick it into position.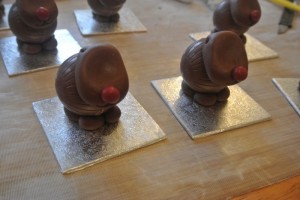 Mix together a pinch of chocolate paste with a small ball of white sugarpaste to make the light brown for the ears.  Roll two small balls and taper one end.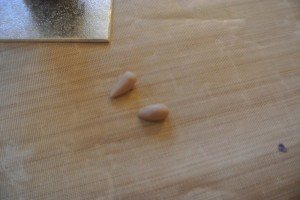 Insert them into the two outer holes on the reindeer's head, adding a light brush of water in the hole just to stick them in place.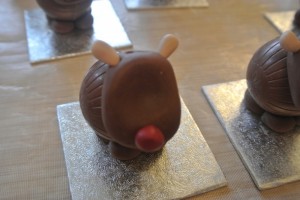 Indent 2 eyes with a black icing pen and indent a line in each ear using a skewer or wrong end of paintbrush.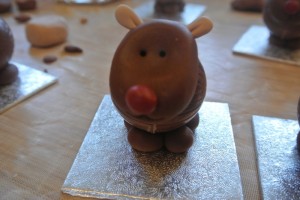 Roll a tapered tail from chocolate paste and stick it on the reindeer's bottom!
For the antlers you need a medium shade of brown, mixing equal amounts of chocolate and white paste should be just right.  Start with a ball, shape it into a sausage.  Fold it in half and gently pinch the base to thin slightly. A brush of water inside the antler hole and then stick into position.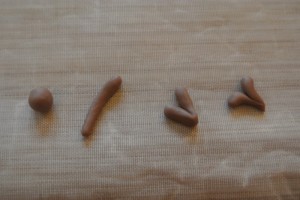 Of course, Reindeer need to be kept well fed at this time of year so a couple of carrots won't go amiss.  Here's how to shape a simple carrot.
Stick the two carrot pieces together and position them by the side of the reindeer.
Give the reindeer's cheeks a rosy glow with a light brush of pink lustre dust.
Add in some curly locks with a little melted chocolate.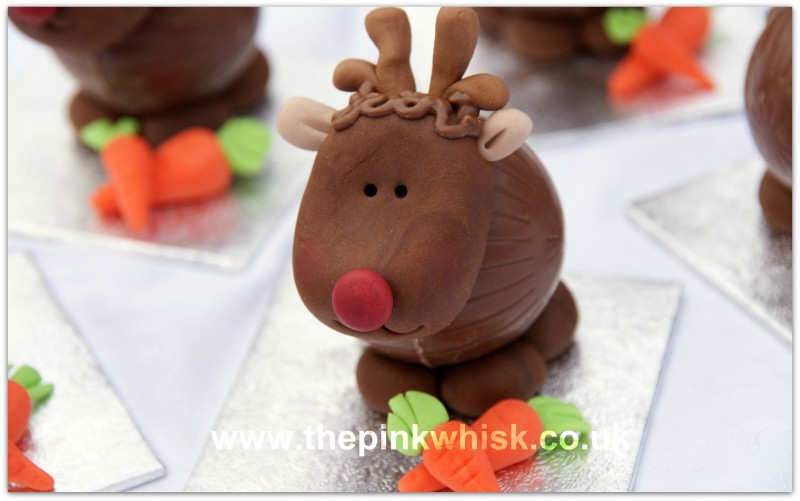 A flock of Chocolate Reindeer – ready for action!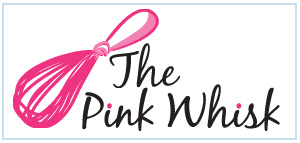 Ruth Clemens, Baker Extraordinaire