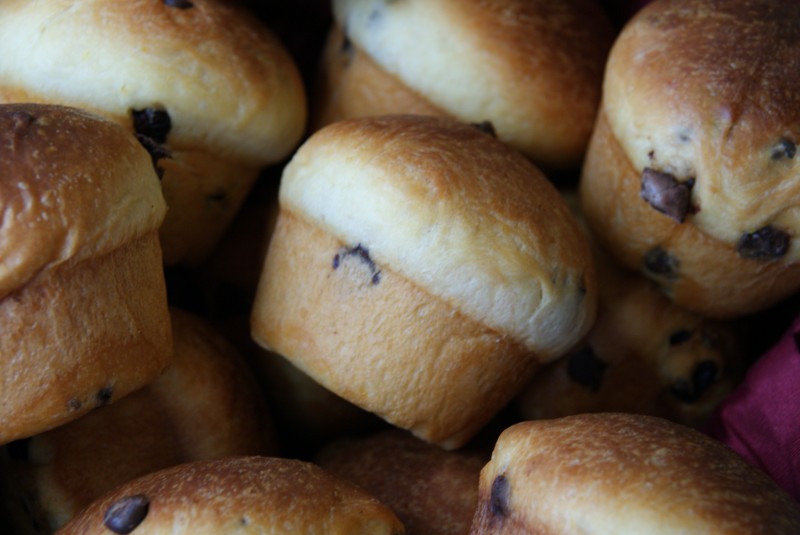 Dark Chocolate and Cherry Panettone for my Day 8 recipe – made in a cupcake/muffin tin.
Make them now and stash them in the freezer!  This one's a long slow one, very little hands on to be done and plenty of get on with other stuff time – now that's my kind of recipe!
Makes 12.
Ingredients:
250g strong white flour
1/2tsp salt
2tsp fast action yeast
120ml milk, lukewarm
2 eggs, large
2 egg yolks, large
2 tbsps honey
250g strong white flour
165g butter, diced and softened
80g caster sugar
Zest of 1 orange
100g dark chocolate chips
100g dried cherries
20g butter, melted
(The chocolate chips and dried cherries can be substituted for pretty much anything you prefer, about 200g of extras is just about right.  When I say pretty much anything I mean a dry extra – anything you could add as an extra to a cake or a cookie – quite obviously a tin of pilchards isn't going to cut to mustard here)
Start off with the first batch of ingredients into a bowl – 250g strong white flour, salt, fast action yeast, lukewarm milk, eggs, egg yolks and honey and mix it up to a batter.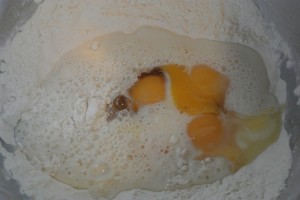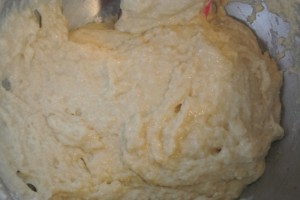 Cover with clingfilm and leave it for 30 minutes for it to start to get to work.
After half an hour if you move the batter with a spatula you will start to see air pockets within it – that's the yeast getting to work already.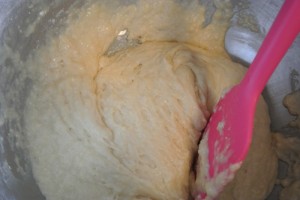 Add a further 250g strong white flour, the diced softened butter, caster sugar and orange zest to the batter and begin to bring the mixture to a dough.  It is very sticky I'll warn you now.  If you have a stand mixer with a dough hook then do get it in there.  If not you need to have faith.  Keep kneading for 5 minutes until the butter is all incorporated, the dough becomes less sloppy and much more like a dough albeit a sticky one!
Knead the dough for a further 5 minutes until it's soft and silky (still a fair bit sticky!)
Transfer it now to a lightly oiled bowl and cover with clingfilm or a clean tea towel.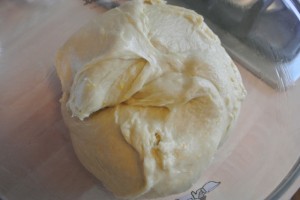 Place it in a warm spot and leave it to rise – a minimum of 2 hours upto a maximum of 5 depending on what you're doing.  The longer you leave it the softer it is to handle at the next stage.  Off out to do a spot of Christmas shopping or put up some decs!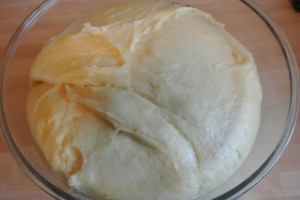 Now it's doubled in size tip it out onto your worksurface.  Stretch the dough out into a rough rectangle.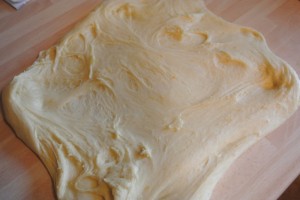 Scatter over the choc chips and dried cherries and then gather the whole thing back up and knead gently until they are fully worked through the dough.
Split the dough into 12 equal pieces.  If you're a precise kind of person, measuring each piece on the scales they should be approx 102g each.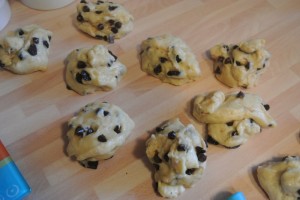 Roll each piece into a ball.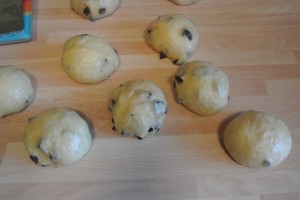 Grease the recesses of a 12 hole cupcake/muffin pan and place 1 ball in each recess.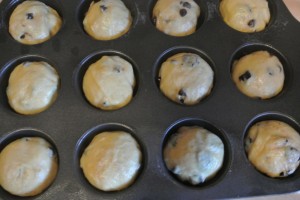 Cover the tray very loosely with a sheet of clingfilm.  Now back in the warm spot to rise.  Again 2 hours minimum and upto 3 if you're doing something else.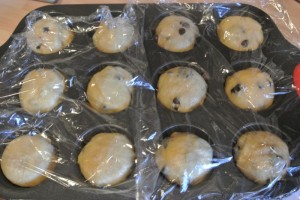 Preheat the oven to 160c(fan)/180c/Gas Mark 4.
Melt the butter and brush gently over the tops of the risen panettone.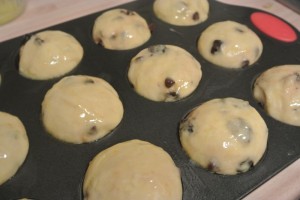 Bake them in the oven for 18-20 minutes.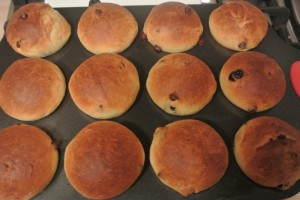 Once you remove from the oven, as soon as you can transfer them to a wire rack to cool completely.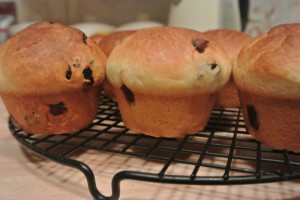 These are lovely and soft when freshly baked.  The day after they will be much firmer, in which case 10-20 seconds in the microwave or a quick refresh in the oven and they'll be soft and tender as if you just baked them again.
If you're making them in advance let them cool on the wire rack, bag them up and get them in the freezer. Once defrosted refresh them as above.
PS.  If you fancy, try them dipped in red wine – absolutely delicious!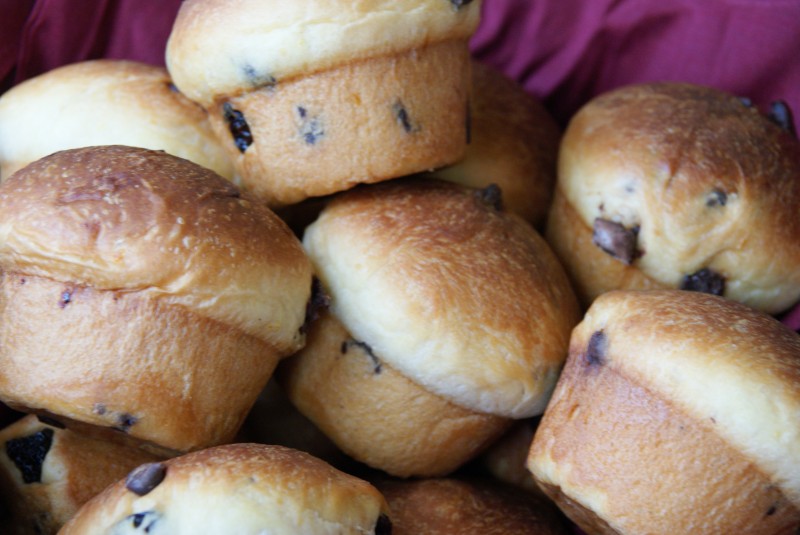 Choc Cherry Panettone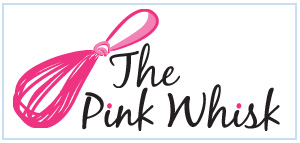 Ruth Clemens, Baker Extraordinaire