I am hugely pleased, after almost a year since the work began, to reveal my completed new kitchen.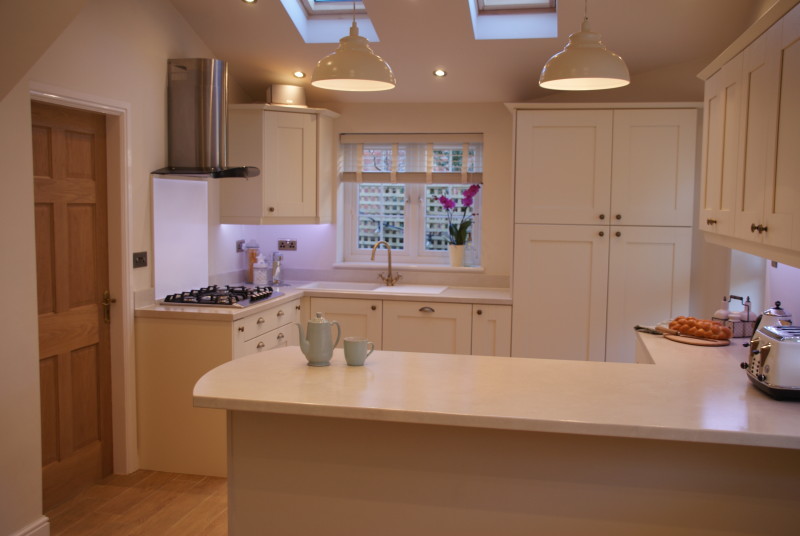 It's been a major task from the planning, budgeting, saving up(!), demolition, rebuilding and fitting out the new space, all whilst trying to retain some semblance of normal family life and to keep working from home through the lot!  For those of you who have undertaken a similar project you'll know how challenging that has been.
So here it is in all it's glory the fabulous new Pink Whisk Kitchen!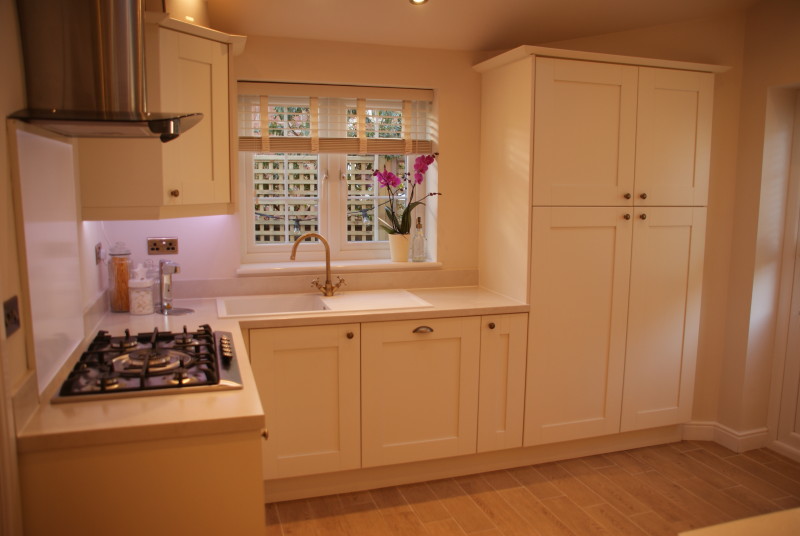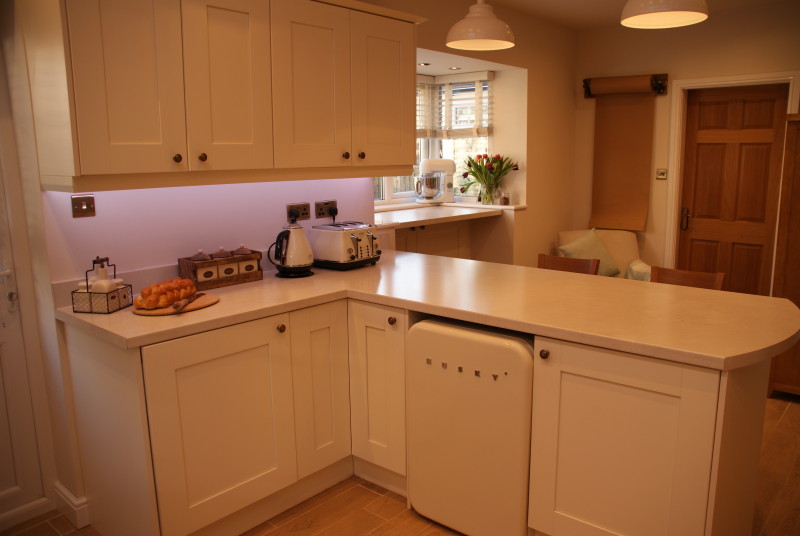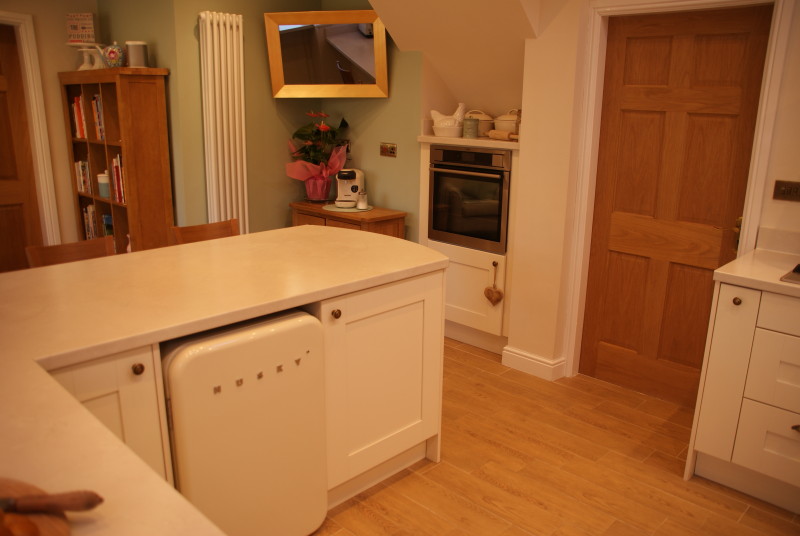 As a reminder, if you didn't already know the kitchen in our home and where I had been working from was approximately the size of a peanut, with plenty of falling down bits and pieces complete with flowery wall paper.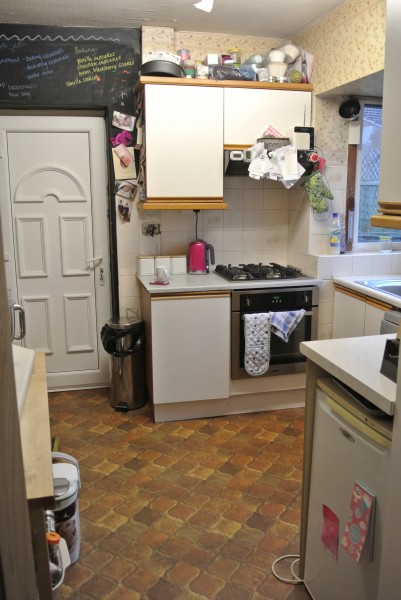 We decided to bite the bullet, save hard and have a kitchen extension utilising what was garage space.  Unfortunately it had to come down before going back up!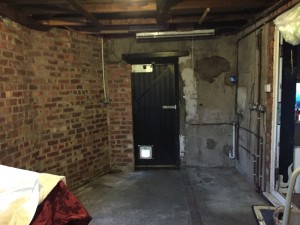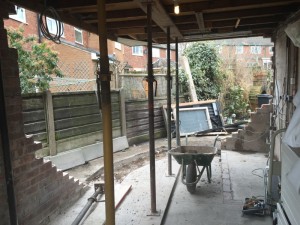 Lots of dust and challenging work, bake and cooking situations ensued before the space was even recognisable again.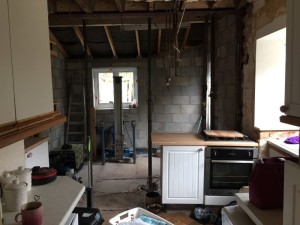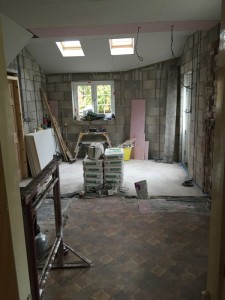 Yes, we did this for a while….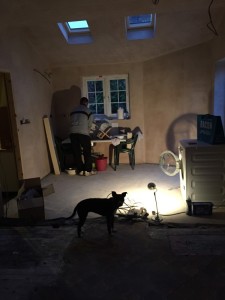 I have been very lucky to have some elements for the kitchen supplied free of charge, the first being the beautiful oak effect flooring tiles which I chose from Tile Mountain – Nordic Porcelain tiles in light brown.
They have proven extremely hard wearing (good job round here) and I love the look of warmth it gives the kitchen.  We sourced a very talented fitter who completed the job in super quick time and the space really started to take shape.
And then on to the actual kitchen itself, I very much felt the pressure in deciding on a layout, kitchens are such an investment and I really didn't want to get it wrong and so ensued planning and costings with lots of kitchen companies.
And here's where the story goes wrong, I chose to put my money and faith with a local kitchen firm, Stanley Green Kitchens.  Their products looked beautiful, their references  and customer testimonials were good and they worked with me in the planning and sourcing of all the elements I had in mind.
Ready for the off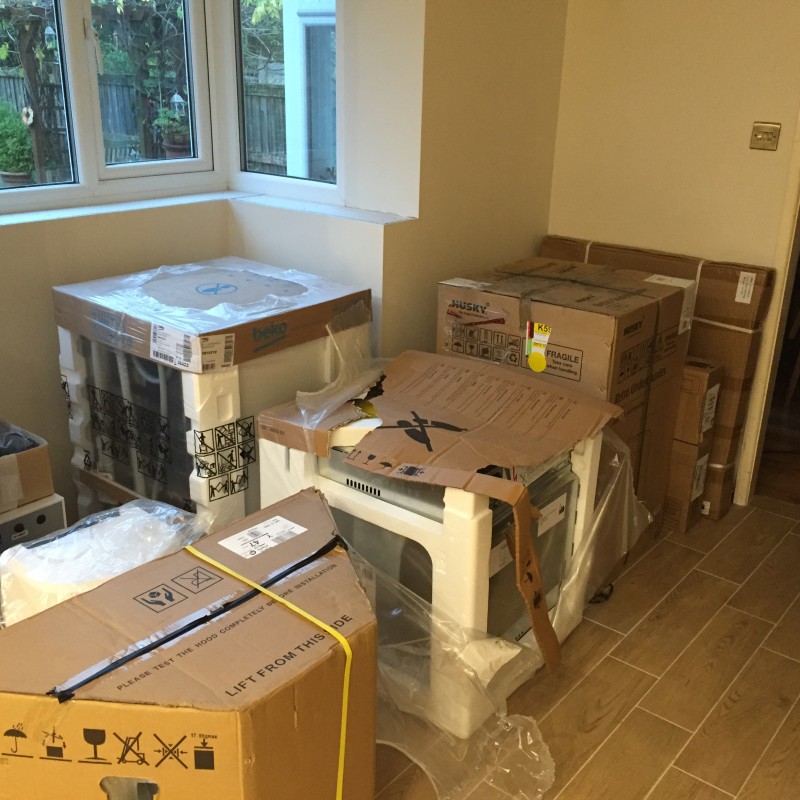 Unfortunately the fitter from Stanley Green Kitchens has left a huge amount to be desired.
I have a fault list as long as my arm, practically every end panel, plinth and fill panels have been chipped on fitting, cupboards have not been built up correctly, the breakfast bar was damaged by them and then fitted anyway with an attempt to hide the damage with silicone, the splashback is lit with LEDs and it was fitted with the lights facing the wall – go figure!  The list goes on and on but I won't!  We have been on the receiving end of extremely shoddy workmanship and have been left with a brand new kitchen that is certainly not a showroom finish.  🙁
Yes, the chips, knocks and damage would happen in the regular life of a family and working kitchen but I didn't expect it all to happen whilst it was being fitted.
When you spend a large amount of your hard earned cash on a product and service you expect the very best and unfortunately with Stanley Green Kitchens I didn't get that.  And yes, I pointed out all these elements throughout the work and I was assured they would be rectified to no avail.  I've been to and fro with them over the issues ever since but the answer is basically, tough you're stuck with it.
However, what's done is done, if anyone is considering a kitchen from Stanley Green Kitchens then I would tell them not to bother, take your money and run elsewhere, very quickly.  The product is great but the service and quality of fit is well below par.  Their fitters have done a poor job and certainly do not take pride in their work.
It's easy to get hung up on the stresses of a situation and I could regale you with pics of the bad bits but I won't dwell there. In spite of the kitchen company we have created a fantastic family social space and this kitchen really is the heart of our home, a brilliant layout and design making my working day just lovely.  The children congregate here after school, and regale me with stories of their day from the breakfast bar whilst I'm still working.  I have a cosy chair and reading corner for my favourite selection of cookery books – what more could a girl ask for?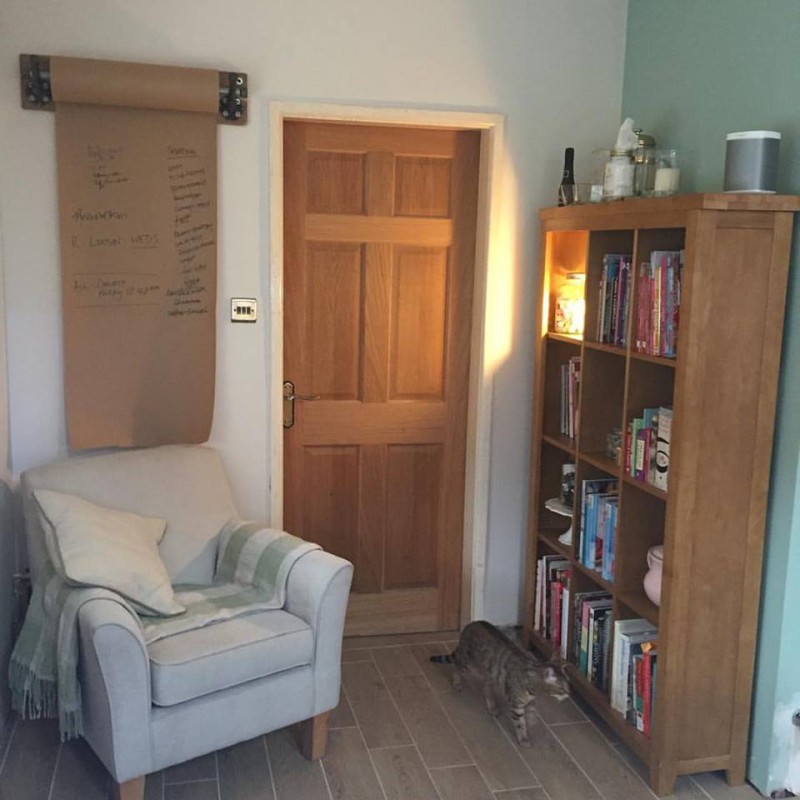 There are a ton of beautiful elements, appliances and gadgets inside the Pink Whisk Kitchen and I'll be sharing these elements with you over the next couple of weeks – I hope you'll enjoy seeing them.
Ruth x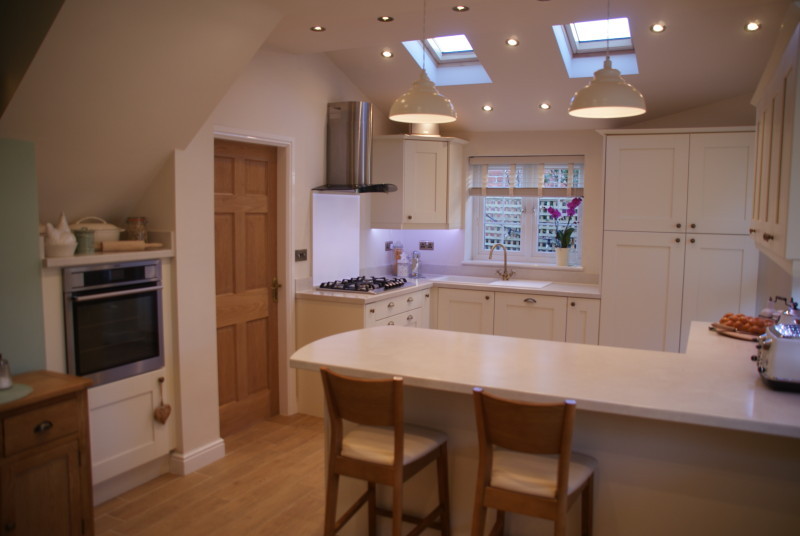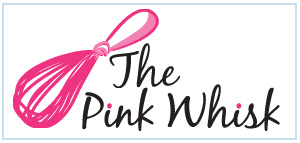 Ruth Clemens, Baker Extraordinaire