So you've seen the new kitchen, time for me to show you in a bit more detail.  Hopefully if you're planning a new kitchen these posts might just give you some ideas.  First up let's talk major appliances!  There are so many decisions to make when planning a new kitchen, it's an investment and you want to get the right pieces in the right places, I'm pleased to say that here they're all working super well.  Here's what I went for…
Hob
I knew I didn't have much space where the hob was to go, certainly not enough to have a 90 or 100cm hob which I would have loved.  A 70cm hob (10cm wider than a standard) has been a fab move if I do say so myself!  It's a Bosch PCR715M90E bought from AO.com via their eBay shop.  There are 5 gas rings, one being a giant high powered burner in the centre – ideal for a wok but also big stock and soup pans.  If you can squeeze in that extra 10cm of hob it makes a huge difference.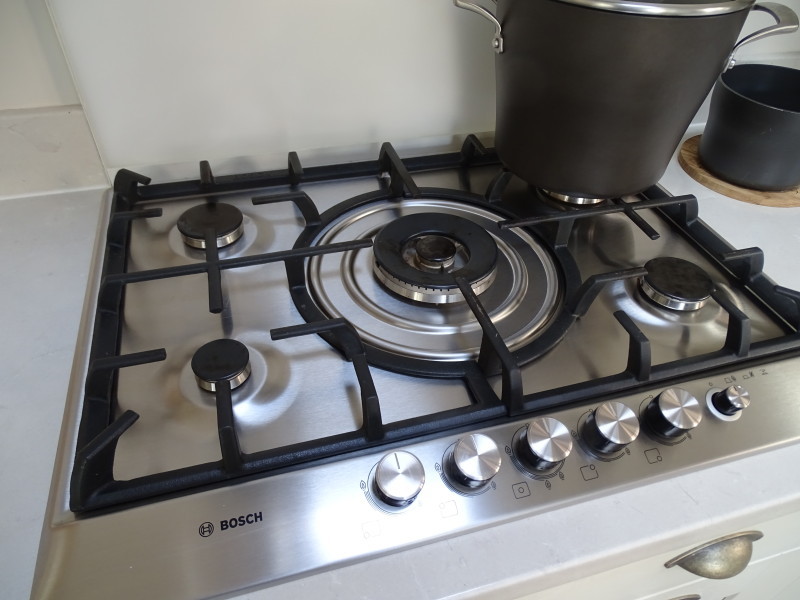 I've used AO.com in the past for buying appliances and they do deliver a great service, they often turn out to offer the best prices too.  You can get super fast delivery when you need an emergency replacement.
The hob has a quick stop main switch and a flame failure safety, a reassuring feature with many new gas hobs – with pre-teens in the house often wanting to cook their own bacon or scrambled egg this feature is a safety I'm thankful for!
Bosch Exxcel PCR715M90E Built In 70cm 5 Burners Gas Hob Brushed Steel – AO.com £333
Cooker Hood/Extractor
My research seemed to prove if you were to go unbranded or at least for a lesser known name on extractors then you get a lot more in terms of features and specification for your money.  I plumped for a super high powered extractor with a timer setting so it switches off automatically after a time (we've always sat down for dinner when I realise I've left it on!)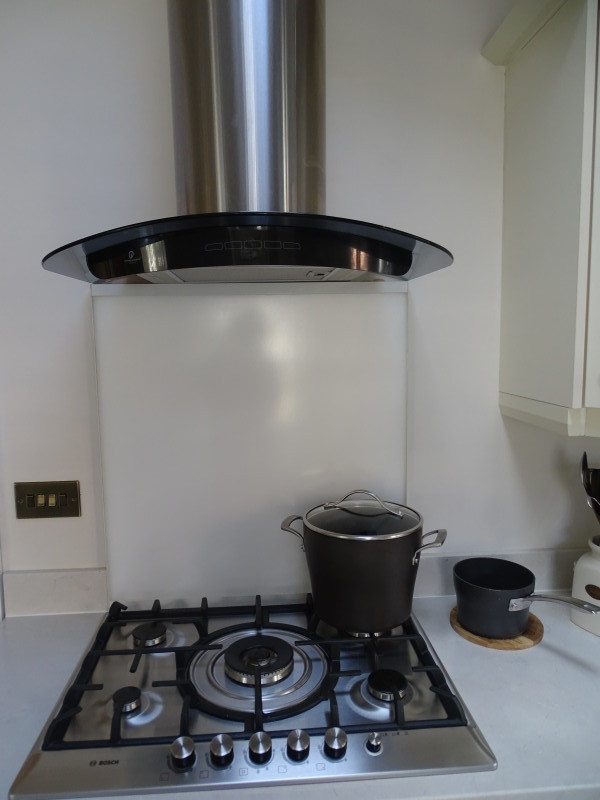 It has LED lights for extra brightness over the hob, it has a supercharged extractor making light work of steam and odours, it's low on the noise level too.  I bought this 70cm extractor from Premier Kitchen Warehouse on eBay, a kitchen appliances seller, for £199 and it does a great job – I'd definitely recommend buying a lesser known brand with a higher spec to fit your budget.

Premier Kitchen Warehouse – 70cm Curved LED Cooker Hood – £199.99
Fridge
The trouble with hiding everything away with integrated appliances is that you end up with a sea of cupboard doors and I've never been known to be streamlined!  I was looking for a feature fridge, Husky Retail came up with the goods and provided me with a Retro Fridge in Vintage Ivory.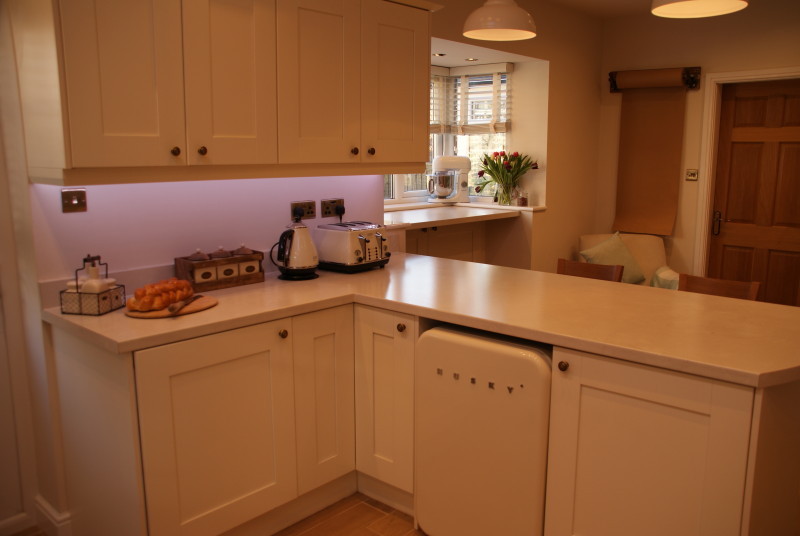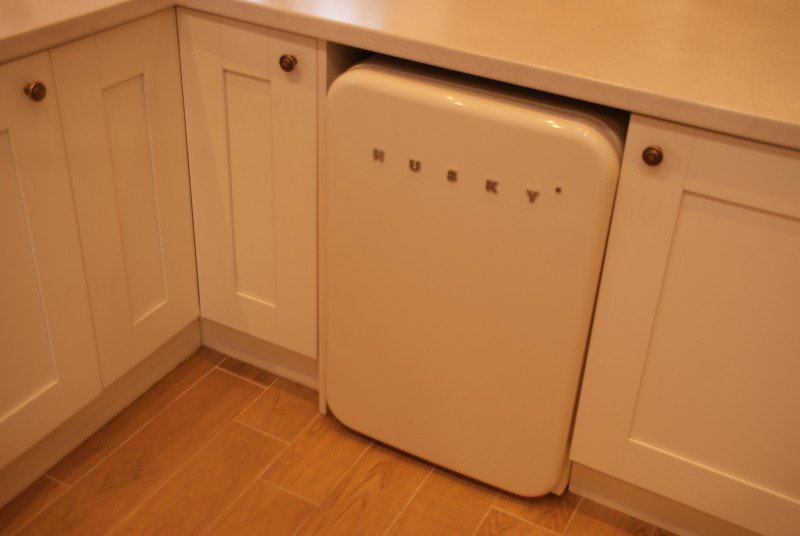 There's all the features you'd expect from a good fridge and A+ energy rating, plenty of space, tempered glass shelves with silver trim, salad drawer, reversible door and a chrome hanging wine rack for a couple of bottles – just the job!
Always filled with baking ingredients to hand!
Vintage Ivory Husky Retro Fridge by Husky Retail RRP £475
Oven
This is a sponsored appliance from AEG. An integrated 60cm multifunction electric oven – the  AEG ProCombi Plus (model number BS836680KM) to be specific 😉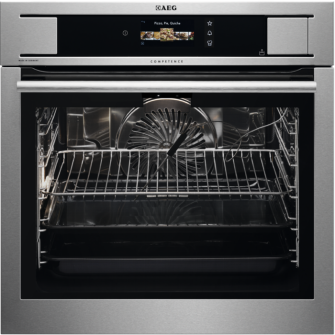 Let's face it my day job relies on my kitchen oven, it's on all day most days!  I need something reliable and that bakes nicely.  No hotspots, plenty of capacity.  If it can't bake well then I'm onto a loser.  Fortunately the ProCombi Plus with steam oven from AEG doesn't disappoint.  It fits in a standard oven housing space – 600mm wide and I've chosen not to have it fitted underneath the hob but instead in a recess that was an old pantry cupboard.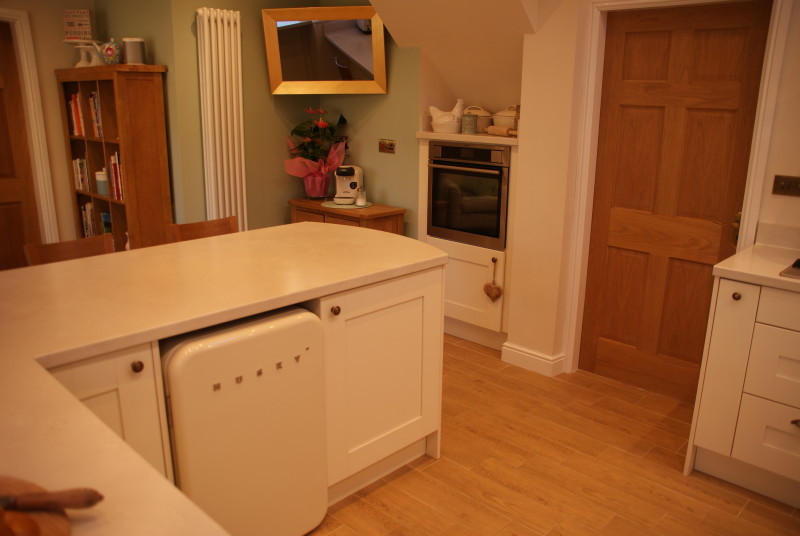 The set up doesn't conform to the often advised triangular work space layout as it's tucked to one side but quite honestly for me it's in the perfect spot.  The under hob space has been given over to drawers which are much more useful for regular access.  If you're considering a non-traditional layout in your kitchen I'd say very definitely consider it, just because you're told appliances should be placed in a certain position doesn't necessarily mean it's the right choice for you.
The AEG ProCombi Plus oven has a myriad of features, from different fan oven setting depending on what you're cooking and baking, a super fast heat up time – preheating the oven in around 5-6 minutes, 3 steam settings that generate different levels of steam and at different temperatures including a dough proving setting – the ideal steamy warm environment to get bread dough proving , bread baking, an oven cleaning setting, it even reminds you when it's time to clean the oven.  The oven also has the facility to cook Sous Vide which I've yet to experiment with.  There's a food sensor which monitors the internal temperature of whatever you're cooking .  At a whopping 73 litre capacity I can pack plenty of baking in here!  Whilst all the different settings are taking some time to trial I can honestly say that its very even to cook and bake in, the positioning in the kitchen is just right and the volume of baking I can get in in one go has been a real god send.  Overall a definite thumbs up from me!
AEG ProCombi Plus (model number BS836680KM)
Washing Machine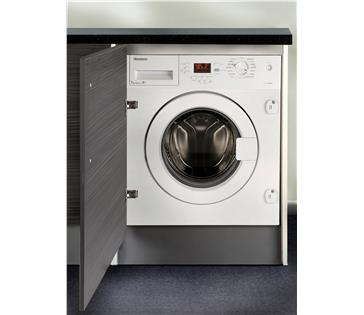 I didn't intend to replace the washing machine, we had a fairly new freestanding washer which would just have gone under the counter.  However it had previously had it's home in the garage and when we came to move it into the kitchen we found it was deeper than a standard worksurface – I've had a large capacity washer for some time, 3 boys need I say any more? So it didn't fit, or rather it stuck out like a sore thumb.  A bit of nifty work at a local auction and I bought a new, customer returned integrated washing machine by Blomberg (from the same company who make Beko), compromising on load size a little with a 7kg capacity with a high spin speed.  It has a ding in the washer side, nothing major and let's face it you can't see it once it's in the hole!  It's in perfect working order, brand new and tested.  For an expense we hadn't budgeted for this was the ideal solution.  See if you have a local auction house that runs customer electrical returns auctions – you could nab yourself a bargain there!
Blomberg WMI7462W20 – Bought at auction for £200. RRP £449.00
Dishwasher
So many choices I got a little overwhelmed here trying to choose,  I plumped for an integrated Beko full size dishwasher, chosen to fit budget, with the best capacity and lowest noise level I could find this has been a good buy  so far replacing our old freestanding dishwasher.  It does a good job efficiently washing dishes, in a fairly decent time, nothing too exciting to report here! The noise level is good and quiet, very non intrusive. I bought it from Currys online and it arrived on a next day delivery without any trouble at all.
BEKO – DIN15210 Full-Size Integrated Dishwasher – Currys RRP £249
So those were my choices, hopefully if you're looking for appliances that may have given you some food for thought – all sorts of ways of buying for all sorts of budgets! More kitchen inside info coming soon!
Ruth x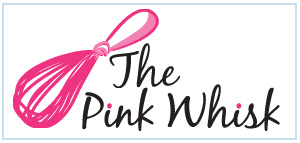 Ruth Clemens, Baker Extraordinaire