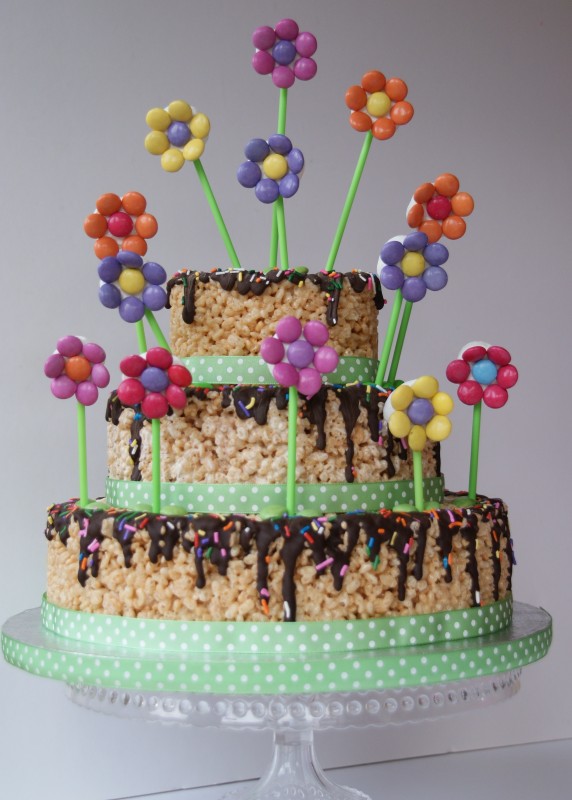 This has got to be the quickest easiest celebration cake I've ever made.  You can put it together in next to no time and makes a brilliant change from cake!
You will need:
Rice Krispie Treats Cakes  (click on the link for the quantities)
Depending on how many tiers of 'cake' you want, what size your tins are and how big or small you want to go, make up your cakes following the method here using the relevant quantities for your tin.  I've worked out quantities for round and square tins from 5″ to 12″ for you.  Make sure you line the base and sides of the tin and allow enough paper above the edge of the tin to help you get the whole thing out (especially important if your tin isn't loose based).
If you're planning a tiered cake how you do it is of course completely up to you but having a 3″ difference between the cake sizes is a good way to go.
Once you're working on quantities over the 8″ cake mark you're going to need large bowls – consider larger plastic boxes for mixing, large soup or stock pans for melting marshmallows and butter or making the mixture in 2 halves.
The recipes in the chart will produce Rice Krispie Treat cakes 7cm (2 3/4″) high.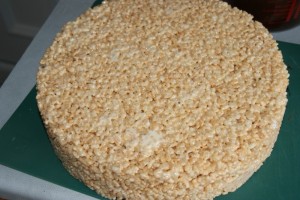 Make up the cakes and allow them to set fully.
Melt some chocolate – 250g will do a 3 tier cake – 5″, 8″ and 11″ you don't need much.
Once melted place it into a disposable piping bag or a ziplock bag and snip off the end.  Just work your way around the top edge of the cake, letting little sections dribble down the side.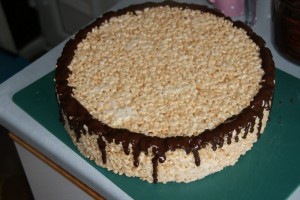 Add some sprinkles to the melted chocolate sections, to get them on the dribbles on the side yes, you have to throw them at the side of the cake 😉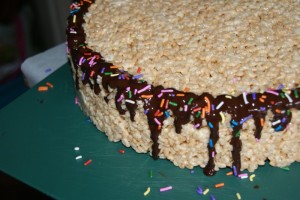 Set the cakes aside just for the chocolate to set.
To assemble it's just a dash of melted chocolate onto the cake board and on goes your base cake, dab of chocolate on the top and stick on the next cake and so on….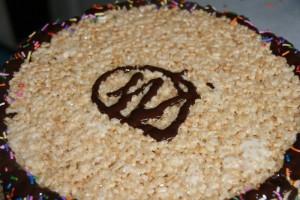 The rice krispie treat cakes are sticky enough that they hold together nicely.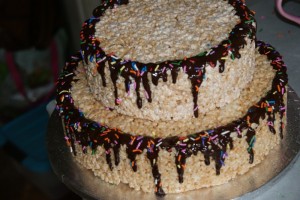 Trim around the base of the cakes with ribbon, again they should just stick in place.
Decorate with a batch of Marshmallow Sweetie Flowers and you're done!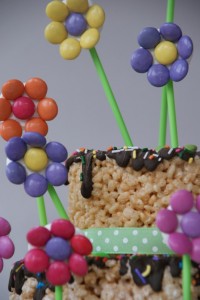 Easiest Celebration Cake Ever!
Ruth Clemens, Baker Extraordinaire
Meet me down the aisles of The Pink Whisk Shop – for all sorts of cake decorating and baking delights!