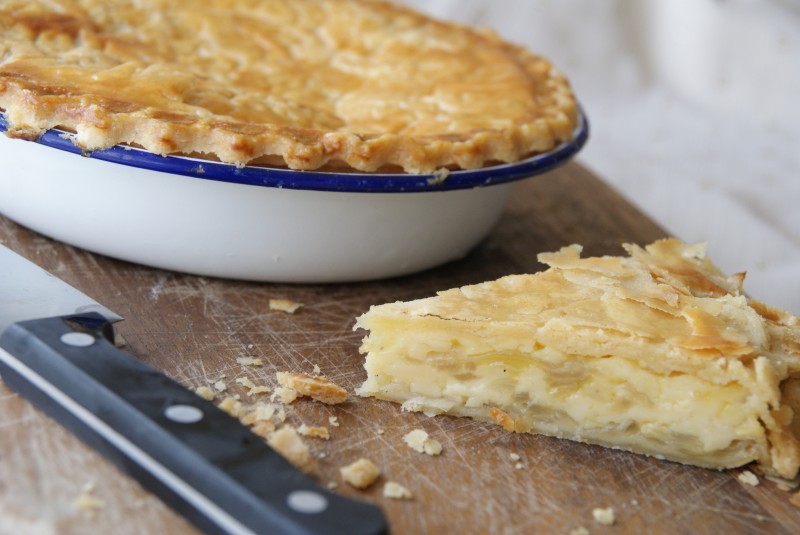 This has to be one of the very best things to come out of my kitchen – you may have to save me from a Cheese & Onion pie addiction!
I have a great friend, Dor who shared a Cheese & Onion pie with a great group of ladies recently and I have dreamt about it ever since, plus with Father's Day approaching and knowing my Dad loves this pie as much as I do I knew I had to give it a go. Yes this is my Father's Day present to my Dad, and no not just the recipe I have him a pie lined up ready to go!
Some of you may know Dor (Doreen Simpson) from her La Difference catering days but she has a new facebook page Dorlicious which I know you'll love to so if you're a facebooker please do go and give her a visit, her food and allotment shenanigans are just brilliant.
Now for the recipe for gorgeous short short crumbly pastry and a glorious cheese and onion filling.  No potato in my pie just unadulterated cheese and onion, just how I like them.
Ingredients:
Pastry
225g plain flour
pinch of salt
65g white vegatable fat (Trex) or lard
65g butter, cold diced
2-3 tbsps cold water
Filling
25g butter
3 onions, good sized, sliced
150ml water
salt and pepper
1/2tsp english mustard
125g mature cheddar, grated
125g lancashire cheese, grated
1 egg for egg wash
Makes 1 x 8″ Pie
Pastry first, place the flour and salt in a large bowl or the bowl of a food processor.
Add the vegetable fat and the cold diced butter.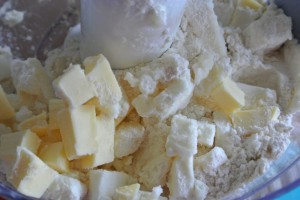 Blitz in the food processor or rub the fats into the flour with your fingertips until the mixture resembles fine breadcrumbs.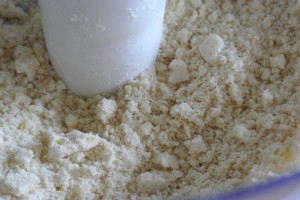 Add the water a little at a time (with the machine running if you're using the food processor) and work the pastry together gently.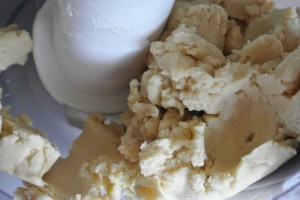 Knead it lightly until smooth, wrap in a sandwich bag or clingfilm and place it in the fridge to chill for 30 minutes whilst you prepare the filling.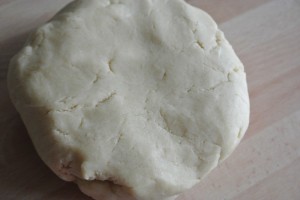 Melt the butter in a large frying pan and add the sliced onions.  Fry them gently until they start to soften, without colouring.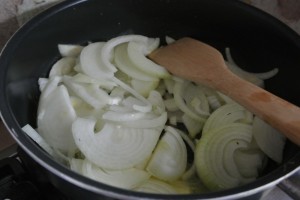 Add the water and mustard to the pan and a give them a good season with salt and pepper.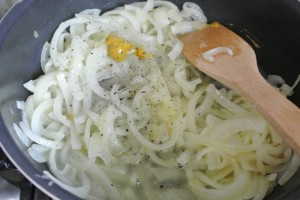 Stir it frequently and continue to cook until the liquid has reduced to very little.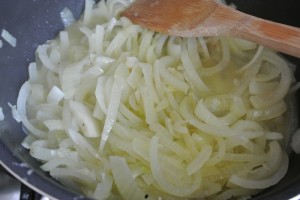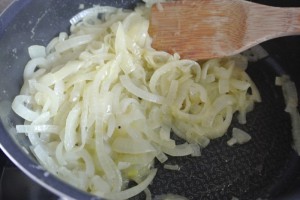 Take the onion mixture off the heat and transfer them to a plate, spread out and allow to cool.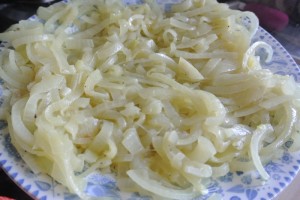 Grate the cheeses and mix together in separate bowl.
Preheat the oven to 160c(fan)/180c/Gas Mark 4.
Grease your pie dish and take the pastry from the fridge.
Roll out 2/3rds of the pastry on your work surface, lightly floured to prevent it from sticking and use to line the base of your tin, leave the pastry overhang for now.
Once the onions have cooled add half of them to the bottom of the pie, followed by half the cheese.
Repeat with a further layer of onion and cheese.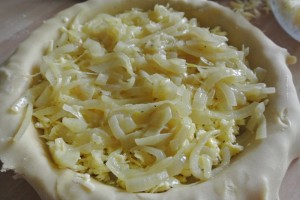 Roll out the remaining pastry for the top of the pie.
Wet the edge of the base pastry layer lightly and lift the pastry top into position.  Press the edges together well and trim neatly with a sharp knife.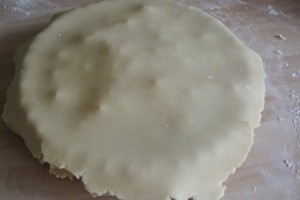 I've crimped the edge of my pie but as yet don't have a photo to show you.  You need two hands to do it which obviously means I'd need a third for the camera.  I'll rope in an assistant and share some photos of the crimping soon. (Good excuse to make more pies)
Glaze the top with beaten egg, for a super golden finish glaze it once and wait 10 minutes for it to start to dry and then coat it again.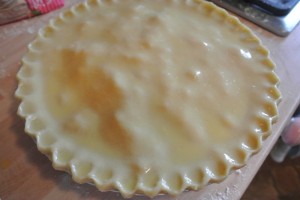 Bake in the oven for 45-50 minutes until golden brown. (and then take a picture of the wrong pie!)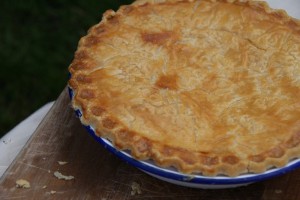 It should be served not piping hot straight from the oven, unless you can cope with it everywhere but should be allowed to cool a bit first!
Go on, you know you're worth it and there are plenty of Dad's that deserve a treat too!
Cheese & Onion Pie
Ruth Clemens, Baker Extraordinaire