Monthly Archives:
April 2011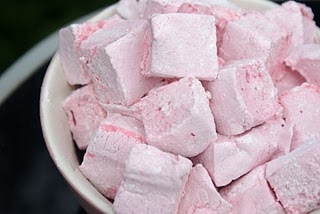 Marshmallows with a twist – Raspberry Sherbet!
Ingredients:450g caster sugar1 tbsp glucose200ml water
2 large egg whites
150ml raspberry puree (from approx 225g raspberries)
2 x sachet Dr Oetker gelatine powder½ tsp citric acid
To coat:50g icing sugar50g cornflour½ tsp citric acid
Citric acid seems like a strange ingredient but it's what gives the marshmallows their sherbety kick!  
…
Read more...