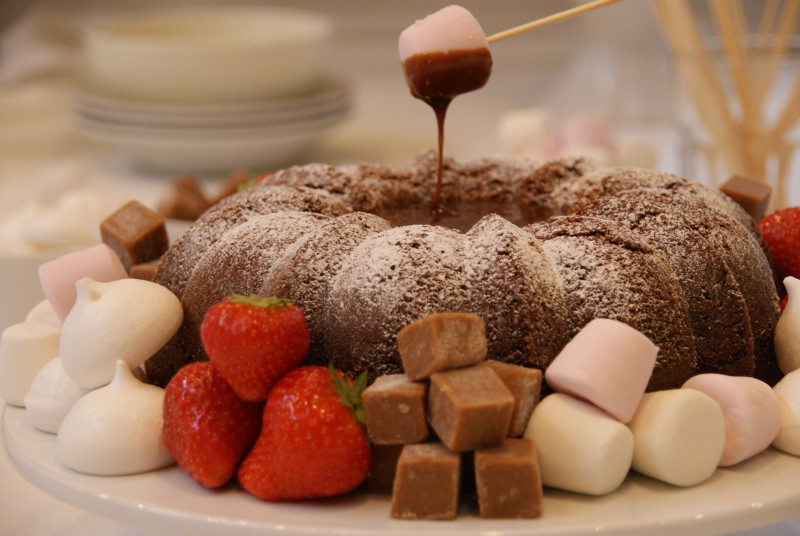 It seems that in our house competitive Toblerone eating is very much a Christmas tradition!  When Toblerone sent me a bunch of bars (after hiding them quickly) I thought I'd come up with a toblerone based dessert for serving up.
.  This is a super simple idea but a great way to impress your guests – Toblerone Fondue, served from the middle of a Bundt cake.
The recipe here is for a Honey and Almond Bundt but feel free to use your favourite cake, I have recipes on the blog for a Salted Caramel Bundt but a standard vanilla or chocolate will do the trick just as well.  When it comes to serving take a sharp knife and cut a around the centre of the ring of the bundt on the serving plate to divide the cake into two full rings, the inner ring to stay intact to hold the fondue, the outer ring can be sliced skewered and dipped!
Ingredients:
Honey & Almond Bundt
200g butter, softened
100g caster sugar
100g soft brown sugar
4 eggs, large
1 tsp vanilla extract
3/4 tsp almond extract
300g self raising flour
75g ground almonds
1 tsp baking powder
120ml honey
80ml vegetable or sunflower oil
Toblerone Fondue
125g toblerone, chopped
60ml golden syrup
200ml double cream
Selection of dipping items to serve – strawberries, fudge, mini meringues, marshmallows etc. Continue reading →