Afternoon Tea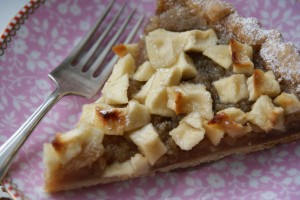 So to kick off The Pink Whisk October Challenge here's my apple recipe for Toffee Apple Tart.
Ingredients:
Pastry
150g plain flour
65g butter, cold
25g caster sugar
1 tsp vanilla bean paste
enough water to combine (2 -3 tablespoons)
Filling
70g fresh breadcrumbs (about 2 slices of fresh bread, blitzed)
1/2 tsp cinnamon
2-3 large apples
(unpeeled my apples weigh about 550g, you will need enough apple that when peeled, cored and diced will cover the top of your tart case.  
…
Read more...